Uncategorized
1960's Century Supper featuring Woodford Reserve Bourbon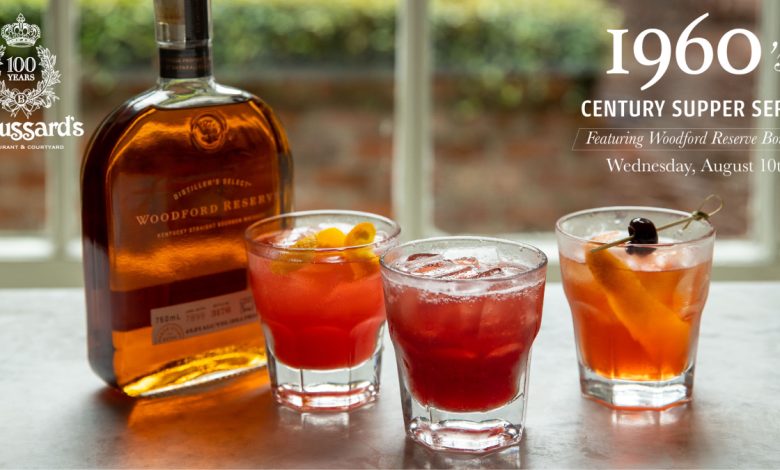 Learn the history behind the sip while you savor a delicious dining experience expertly crafted by Chef Jimi Setchim! Our Century Supper Series features cocktails that commemorate each decade we've been in service, paired with a specially prepared menu. Join Broussard's for their 1960's Century Supper featuring Woodford Reserve Bourbon! Delight in three cocktails based on this scintillating spirit, learn more about it and how to craft your own craft cocktail experience at home.
WHEN: Wednesday, August 10th
TIME: 6:30PM, doors open at 6:00PM
WHERE: Broussard's Restaurant & Courtyard, 819 Conti Street
PRICE: $70 three course prix fixe meal with cocktail pairings, tax and gratuity not included.
Menu:
First:
Gulf Shrimp Fondue
Brie and Gruyere Dip, Pickled Red Onions, Woodford Reserve and Smoked Tasso Compote
Georgia on My Mind
Woodford Reserve Bourbon, Dry Vermouth, Peach Bitters, Cherry
Main Course Pictured Above
Julia Child's Beef Bourguinon
Braised Short Rib and Veal, Applewood Smoked Bacon, Heirloom Carrots, Pearl Onions, Mushrooms, Garlic-Whipped Potatoes
Zen Reserve
Woodford Reserve Bourbon, Green "Zen" Tea, Rhubarb Syrup, Fonseca Bin 27 Port
Dessert:
Peach and Passionfruit Tart
Smoked Peach Compote, Raspberry, Whipped Cream
The Blinker
Woodford Reserve Bourbon, Grapefruit, Raspberry Syrup