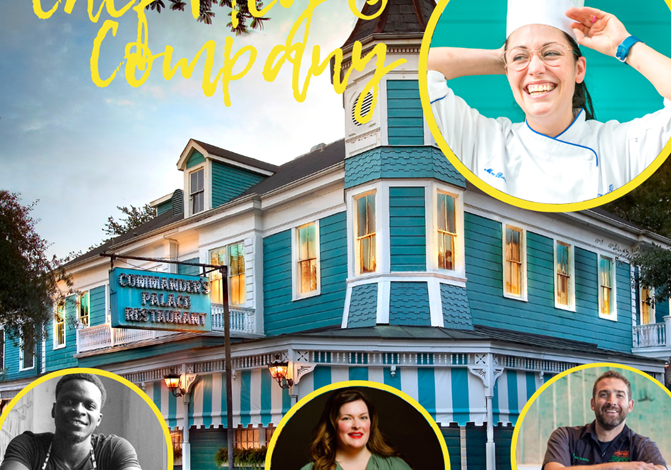 This year's star-studded lineup features Chef Serigne Mbaye of Dakar, Chef Michael Gulotta of Maypop, MoPho and TANA, and cocktail maven Christa Cotton of El Guapo Bitters
Commander's Palace Executive Chef Meg Bickford (top), (bottom L-R) Chef Serigne Mbaye of Dakar, El Guapo Bitters CEO Christa Cotton and Michael Gulotta, Executive Chef and Partner of Maypop, MoPho and TANA
For the second year, the Commander's Palace family brings everyone together with Chef Meg & Company: A Commander's Palace Dinner Series, kicking off on Tuesday, August 23. There's nothing that the Commander's Palace team – and their Executive Chef Meg Bickford – loves more than a fantastic dinner party. This summer, they are mixing up great friends, amazing cuisine, and plenty of drinks – the perfect recipe for a truly memorable evening. Each dinner will raise funds for Café Reconcile, a nonprofit daytime restaurant serving Southern staples cooked by at-risk youth receiving important on-the-job training.
For 2022, Chef Meg has invited distinguished New Orleans culinary leaders that are alum, friends, and respected colleagues of the Commander's Family, including James Beard nominated chefs Serigne Mbaye and Michael Gulotta. In addition to collaborating with top New Orleans culinary talent, these epic dinner parties feature cocktail maven and El Guapo Bitters CEO, Christa Cotton, who will be whipping up delicious cocktails at each event.
Chef Meg & Company dinners take place at Commander's Palace and include a welcome cocktail, a collaborative five-course tasting menu created by Chef Meg and her special guest chef, wine pairings from Commander's Palace's own "Wine Guy" Dan Davis, and a coupe de milieu cocktail. Collaborating, cooking, and having a grand time together is what this dinner series is all about!
WHEN:
Chef Meg & Company: A Commander's Palace Dinner Series takes place monthly, including the following confirmed dates:
● TUESDAY, AUGUST 23 at 6:30PM: Serigne Mbaye, Chef of Dakar
● TUESDAY, SEPTEMBER 13 at 6:30PM: Michael Gulotta, Executive Chef and Partner of Maypop, MoPho and the highly anticipated TANA
WHERE:
Commander's Palace
1403 Washington Ave
New Orleans, LA
INFO:
Tickets for Chef Meg & Company: A Commander's Palace Dinner Series are now on sale, priced at $165/person (inclusive of tax and gratuity) and may be purchased 
Tickets-> https://bit.ly/3vmLLuA
A portion of the proceeds from ticket sales go to Café Reconcile to help support their important work in the New Orleans community.
ABOUT COMMANDER'S PALACE:
Commander's Palace, nestled in the middle of the tree-lined Garden District, has been a New Orleans landmark since 1893. Known for the award-winning quality of its food and its convivial atmosphere, the history of this famous restaurant offers a glimpse into New Orleans' storied past and is the go-to destination for Haute Creole cuisine and whimsical Louisiana charm. The winner of seven James Beard Foundation Awards, including Lifetime Achievement Award for Ella Brennan in 2009; the Who's Who of Food & Beverage Award for Ella Brennan in 1984 as well as the Who's Who of Food & Beverage Awards for Ti Martin and Lally Brennan in 2018, Commander's Palace has evolved into a culinary legend. Under the past watchful eye of family matriarch Ella Brennan—and now with co-proprietors Ti Adelaide Martin and Lally Brennan at the helm—the Brennan family's dedication to perfection has never wavered. A steady parade of renowned chefs have made Commander's Palace the world-class restaurant that it is today and its leading-edge Haute Creole cuisine reflects the best of the city.
FOR MORE INFORMATION, PLEASE CONTACT ELIZABETH HAMEL OR NAOMI EVANS AT WAGSTAFF: