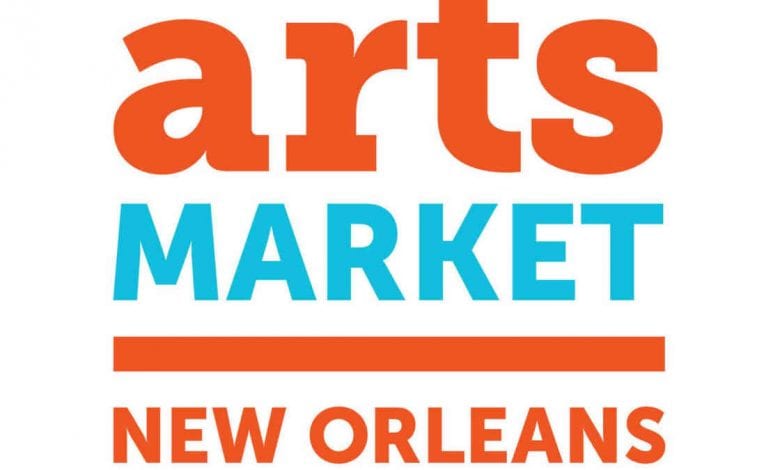 This is your last chance to stop by the Arts Market New Orleans and pick up your Christmas and Hanukkah presents. The market is located in Palmer Park every month and this month it is on December 21 and December 22, 2019, from 10am to 4pm.  Each monthly market features between 80 and 130 local artists and December is one of the most popular months. While you are browsing and shopping, you will also get to enjoy music by Louisiana musicians and great food by local vendors all at the Arts Market New Orleans.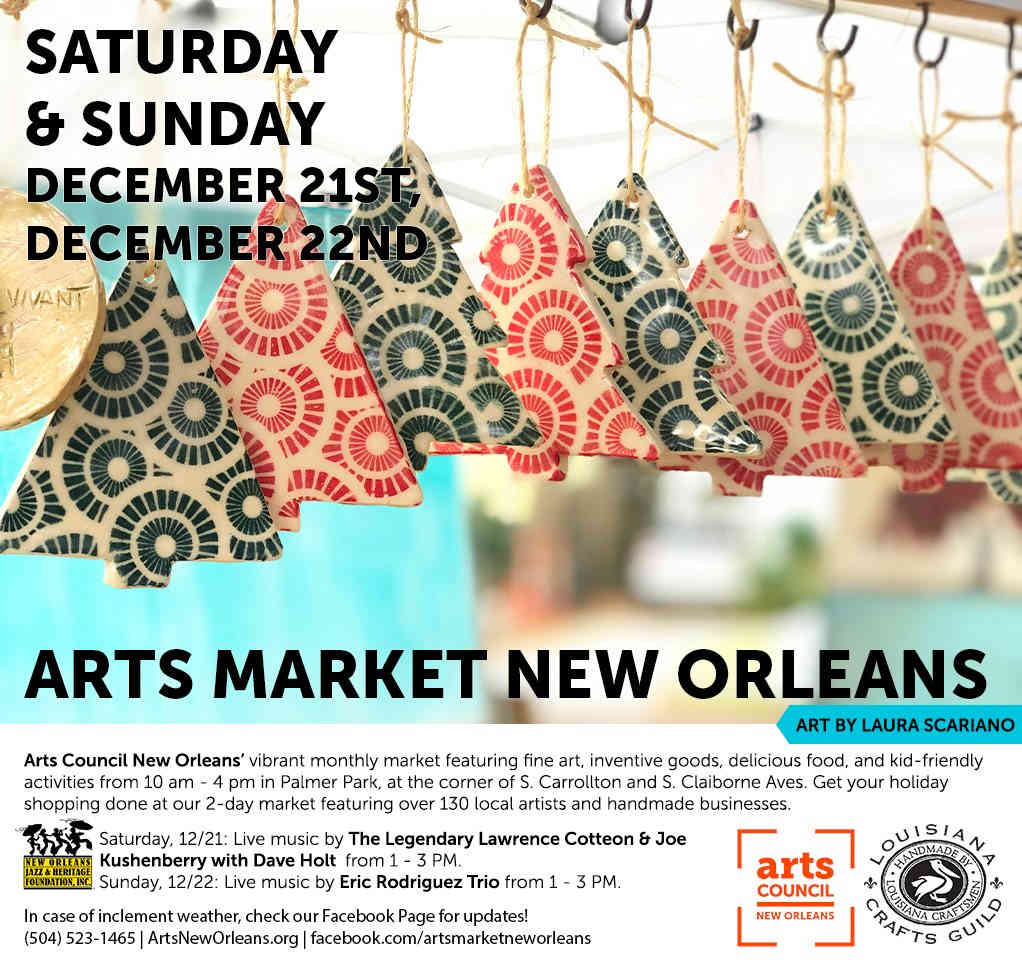 Location
The Arts Market New Orleans is located in Palmer Park which borders South Carrollton Avenue, South Claiborne Avenue, Dublin Street, and Sycamore Place. It is at the end of the St. Charles Streetcar line so it could be a wonderful Saturday and Sunday treat to take the streetcar down to the park. There is free street parking in the neighborhood surrounding Palmer Park.
Entertainment
On Saturday, December 21, 2019, from 1-3pm, the Legendary Lawrence Cotton & Joe Kushenberry with Dave Holt will entertain all of the guests. On Sunday, December 22, 2019, the Eric Rodriquez Trio will perform at the Arts Market New Orleans from 1-3pm.
Arts Market New Orleans Food 
Crêpes à la Cart- New Orleans
Gulf Tacos
Plum Street Snoballs
Petite Rouge
Bratz Y'all
Direct Seafood
AOK
Arts Market New Orleans Artists
Alice Akande
Shaun Aleman
Charles Anderson with 1 of 1 Blazers
Patricia Barker
Amy Bellart
Mike's Woodworks/Dragonfly Designs
Christy Boutte of Art by Christy Gallery LLC
Holly Boynes of Slip Into Clay
PiruAndChreegooShop
Pink Cheeks Studios
Allison Eastman Britt
River Road Press
SidneyCarter
Melissa Castrillo with Melissa's Mosaics
Kate Clarke of Ficus Ceramica
Lyla Clayre
Bebo
Measha Daynes of Mermaid's Purse
Krista DeJoseph of Queens Metal
Rachael DePauw Pottery
Heather Englehart of Lifescapes Art
Stephen Fabre of NOLA Woodturning
Jose Fernandes
Emma Fick
Kent Follette of Follette Pottery
Maria Fomich
nurhan gokturk studio llc
Donna Guidry of Bijoutiere
Adam Hall
Melanie Hayman of Hippie Chic Designs
Wade Heyl
Dave Holt of Nola Beaux Ties, LLC
Juli Juneau Glass
Pat Juneau Metalworks
Suzanne Juneau Jewelry
Mary-EllenKelly
Tim Kennedy
Luke Koeferl
Abbey Kuhe ceramics
Mitch Landry
Darlene Langendonk Art Impressions
Paulette Lizano of Lizano's Glass Haus
Louisiana Crafts Guild
LeianaLoveday-Funck of Funcky Love Designs LLC
Sherryl Schmidt Lutz of Only Original Art
Jenise McCardell of Clay Creations LLC
Molly McGuire
Bonnie Miller Art
Caroline Muneoka (Designs by Masue)
New Orleans Art Association
Nick Conner
Joshua Lee
Cheryl Nunes
Nicole Ockmond of Studio NO, llc
Annie Odell of Fit to be Tied
Andy Pollack
Charity Poskitt of Blue Mule Art
Michael Remy of Remy's Fine Art
Handmade Pottery by Susan Rodrigue
Laura Scariano with NOLA Bon Vivant
Peter Seltzer Pete's Paper Crafts
Steve Burmester of Tibre Studios
Eslie Taylor Still Waters Jewelry
Handknit Styles by Lauren Thomas
Shae Thomas of Shae Shea LLC
Tracy Thomson of Kabuki Design Studio, LLC
Alena Vinet
Jeanne Vockroth Art + Design
Joseph Walton Photography
Big Easy Birdhouses
Fred Weber of Elements of Stained Glass
Phillip Whitmore of Inexplicable Confetti
Heather Elizabeth
Emily Zawislak jewelry
Tippy Tippens of Goods That Matter
Additional Artists For Saturday at the Arts Market New Orleans
Greg Arceneaux Cabinet Makers
John Bloemer
Rebecca Bordelon of Valois Designs
Renee Dodge of Roux Dauphone
Lorraine Gendron
Jess Leigh Jewels
Artfarm NOLA
Kiki Huston
Justine Diamond of Elspeth's Airs Natural Perfumes
Lane Lefort Photography L.L.C.
Jacquelyn LeVan
Tone Lowe Creations
Peg Martinez of Square Peg Artistic Woodworks
Vitrice McMurry
Brian K.Miller
Cora Nimitz
Michael Remy of Remy's Fine Art
Phil Sandusky
Hot Glass by Gerald Spehr
Tamar Taylor
Kathy Thurnau
Dale & PamTripp-Simmons
Anne Wheeler
Wortman Potter
YAYA
Additional Sunday Art Vendors at the Arts Market New Orleans
The Arts Market New Orleans will have additional vendors on Sunday. Please check their Facebook page for the latest updates.
Arts Market New Orleans Non-Profits
Friends of the New Orleans Public Library
Waldorf School of New Orleans
ReFOCUS
Extinction Rebellion
New Orleans Box Office
Moms Demand Action – LA
Interested in exhibiting as an Artist, Food Vendor, or Non-Profit at Arts Market New Orleans? Learn more here: http://www.artsneworleans.org/event/arts-market-of-new-orleans/exhibit/