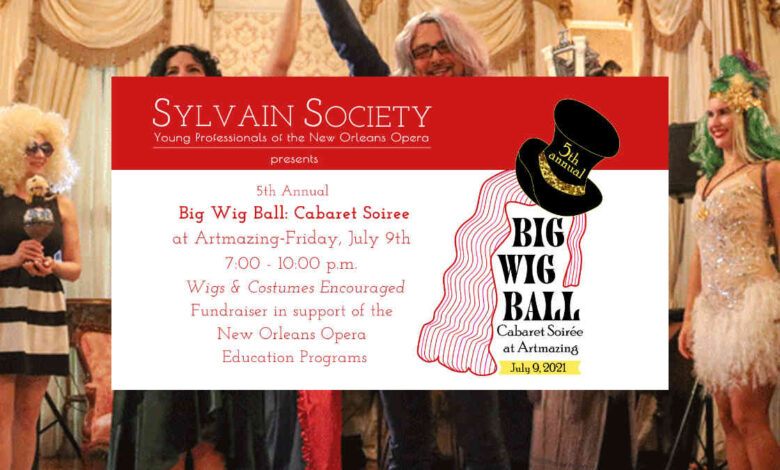 On Friday, July 9, 2021, from 7 to 10pm, the Big Wig Ball will take place at Artmazing Gallery in support of the New Orleans Opera Education Programs. This year guests will celebrate with glitter and wigs at this Cabaret Soirée themed celebration.
The funds from this event support opera education programs for the Greater New Orleans area through the New Orleans Opera Association's Education Department. We are very excited that we were able to hold the ball last year, which provided funds for the educational programming to be conducted virtually at a great time of need to local students. We are even more thrilled that we will be able to continue the tradition this year, as times like these show how important music education is to students and musicians.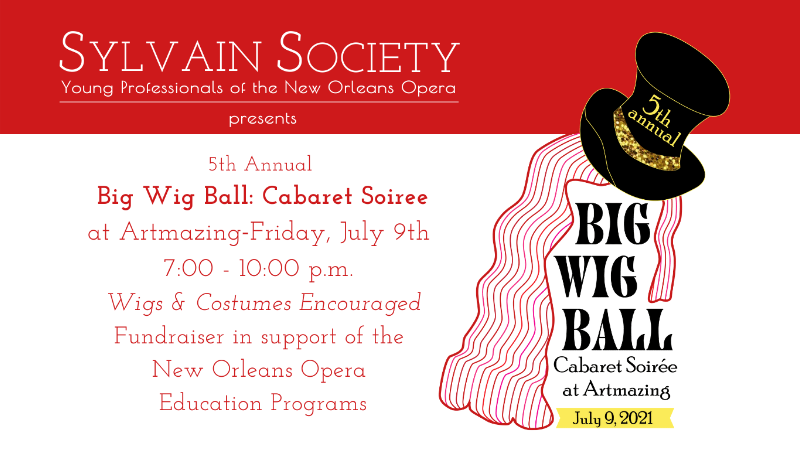 Big Wig Ball: Cabaret Soiree Details
The theme is loosely based on Moulin Rouge in support of the upcoming opera production La bohème in April 2022. Wigs and costume or cocktail attire inspired by the theme are encouraged. A panel of judges will select their favorite wig-wearing guests, then choose who will be crowned the "Big Wig 2021". Along with food and libations provided by stellar local sponsors, guests will have access to the Artmazing Gallery installation for photo ops. Tickets start at $40.00 Learn more – HERE.
Since 2017, the Big Wig Ball events have raised more than $28,000 in funding to directly support programming costs for Student Night Out performances and other education programs. Each year, the Student Night Out performances introduce more than 2,000 local K-12 students to the operatic arts when students and chaperones attend opera productions at Mahalia Jackson Theater. This year, the pandemic presented hurdles that the Education Department tackled with ease; they were able to quickly switch in-school activities to virtual educational programs for students.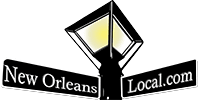 New Orleans Local is your best resource for the latest events happening around the city. If you like the theater, we've got you covered with all sorts of great safe events and lots of virtual events. Whether you are looking for festivals, parties, theater, charity events or events for kids, we have everything you need to be in the "know." Our Calendar of Events welcomes any organization or business to submit events and happenings – HERE – to help let our community know what is happening around town. Everybody knows about Mardi Gras, but do they know about the latest charitable event, local marathons, holiday events, or reveillon dinners? Submit your event with a great photo, so we can let people know what events you want to help to promote in the New Orleans area. Laissez Les Bons Temps Rouler!