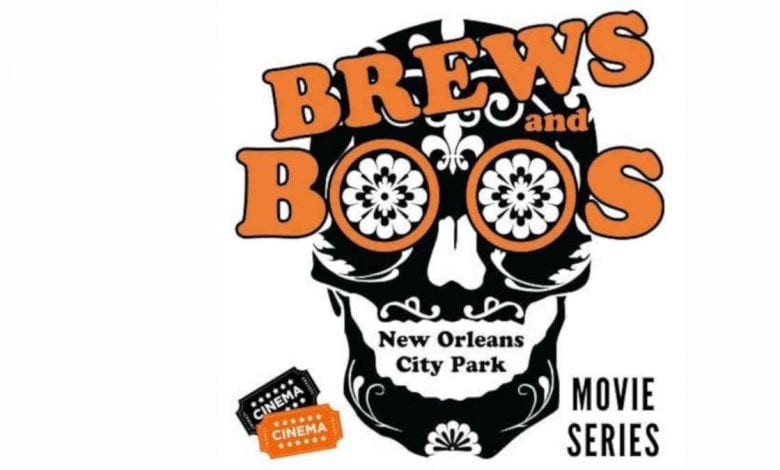 Brews & Boos the favorite Halloween Party for adults in City Park is trying something new this year called Brews & Boos "The Movie Series". Instead of one spook-tacular Halloween organizers will show movies starting at the end of August through September.
As you might imagine the movies are all Halloween inspired since we are about to enter the spooky time of year. Due to the success of the series more screenings have been added:
Saturday, September 5th – "Shaun of the Dead"
Saturday, September 12th – "It Follows"
Friday, September 18th – "Hereditary"
Saturday, September 19th – "Hereditary"
What You Need To Know About Brews & Boos This Year

The movies will be shown outside at Popp Fountain starting at 7 pm . You must be 21 to attend. The event is not called Boos & Brews for nothing. On the Beer Menu you will find Michelob Ultra, Paradise Park, Bud Light, and Modelo Especial. And that's not all, there will be Tito's jello shots, and bags of salted peanuts. If you are in the mood for something else just bring your own food and drinks. Just don't forget blankets and chairs to enjoy the movie in comfort.
To keep everybody safe we will only allow a maximum of 50 guests per screening. All staff will undergo a temperature check prior to event shift. Furthermore, all staff will wear masks at all times. Equipment will be sanitized before,during, and after the event. Restrooms will also be sanitized before, during, and after the event. All guests must adhere to social distancing rules. Guests will be encouraged to wear a face mask, but not required to do so. Hand sanitizer will be available to all guests in restrooms and at beer station. Staff maintaining the beer station will wear gloves at all times, and sanitize beer taps throughout the event. Social distancing among guests will be supervised by park event staff. Contracted security staff will monitor the parking lot. All guests are encouraged to use a ride share company.
Get your tickets here: https://tix.wrstbnd.com/e/event/brewsboos