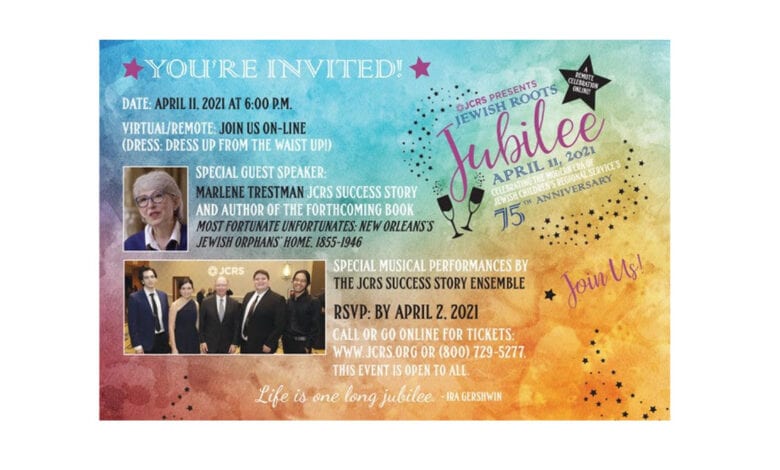 On Sunday, April 11, 2021, at 6:00pm, Jewish Children's Regional Service (JCRS) will virtually present the 10th JCRS Jewish Roots gala. The 2021 Jewish Roots Jubilee will celebrate the 75th Anniversary of the modern-day Jewish Children's Regional Service which was born after the closing of the original Jewish Children's Home orphanage, that dates back to 1855. The annual event has been the signature Jewish gathering in New Orleans with patrons in attendance (and on-line this year) from across the Mid-South.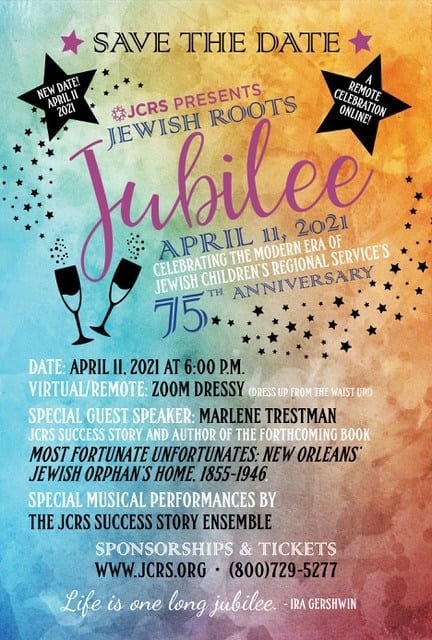 Jewish Roots Jubilee Details
The virtual event will feature New Orleans native, Marlene Trestman, and her soon-to-be-published book from LSU Press, Most Fortunate Unfortunates: New Orleans's Jewish Orphans' Home, 1855-1946. Marlene has received numerous public and academic awards and recognitions for her accomplishments as the former Maryland Assistant Attorney General and for her first book, Fair Labor Lawyer: The Remarkable Life of New Deal Attorney and Supreme Court Advocate Bessie Margolin. Marlene is a graduate of Isidore Newman School and a JCRS "success story," having received assistance from JCRS after the untimely deaths of both of her parents.
The Jewish Roots Jubilee gala features music performed by the JCRS "Success Story Ensemble" – educational scholarship recipients who are currently pursuing advanced degrees in musical performance. There will also be an online auction focused on fabulous vacations. 
Jewish Roots Jubilee Tickets are available by calling the office at (800) 729-5277. The event is open to all. Learn more – HERE.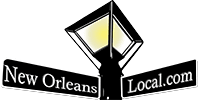 New Orleans Local is your best resource for the latest events happening around the city. If you like the theater, we've got you covered with all sorts of great safe events and lots of virtual events. Whether you are looking for festivals, parties, theater, charity events or events for kids, we have everything you need to be in the "know."  Our Calendar of Events welcomes any organization or business to submit events and happenings – HERE – to help let our community know what is happening around town. Everybody knows about Mardi Gras, but do they know about the latest charitable event, local marathons, holiday events, or reveillon dinners? Submit your event with a great photo, so we can let people know what events you want to help to promote in the New Orleans area.  Laissez Les Bons Temps Rouler!