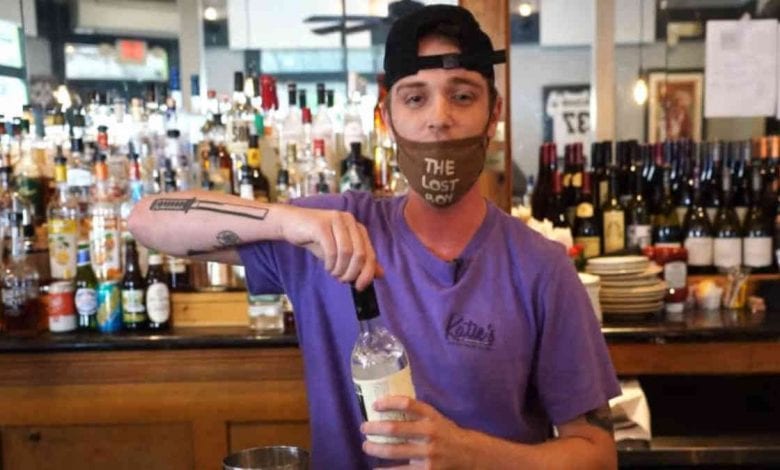 Join us this week for Lifting Community Spirits with host, Fred Holley. Fred Holley is the Event Coordinator for Republic National Distributing Company in New Orleans, Louisiana. This week Fred is meeting with Scot Craig who is the owner and chef of Katie's Restaurant. During this week's happy hour, we will also learn how to create this week's spirits which are Western Son Blueberry Vodka Lemon Drop Martini and Hudson Baby Bourbon Whiskey Old Fashioned.
Katie's Restaurant and Bar
Katie's Restaurant and Bar is located on 3701 Iberville Street in New Orleans and offers dine-in, curbside and even delivery services. The restaurant is open Monday through Saturday from 11 am until 9 pm. Katie's Restaurant is definitely "an old-school, family operated neighborhood restaurant and still echoes the vision of Mr. Leo Leininger," according to Scot Craig, Owner/Chef of Katie's Restaurant and Bar. Katie's opened in 1984 as a corner lunch restaurant. In 1993, the Leininger family sold the restaurant to the Craig family and Scot Craig took the helm. Scot Craig, his brother, David, and even his mother, Mary, all worked together to expand the restaurant. Mary is known as "The Hostess with the Mostess" and the brothers were known as "the boys" in the kitchen.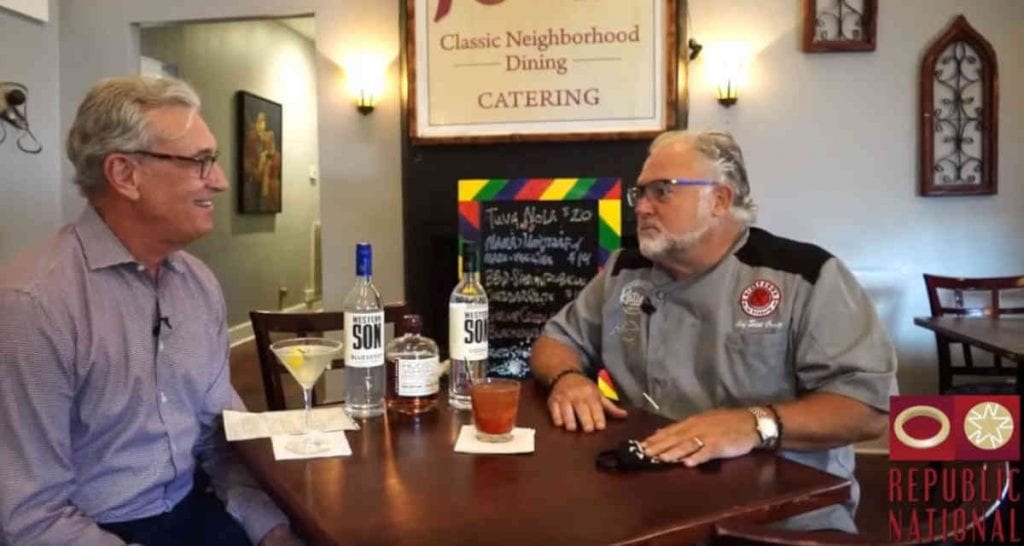 Scot Craig's History
Scot Craig was born and raised in New Orleans. He began in the industry over 43 years ago as a dishwasher at Sizzler's Steak house which today is where Acme is located in Metairie. After Scot got tired of washing dishes, one night the cooks did not show up and Scot got to cook the steaks. He learned most of his cooking skills from ladies in the neighborhood where he grew up. Scot grew up in a diverse neighborhood and he had the wonderful opportunity to learn some of the secrets for Creole cooking. What he learned from his childhood made him into the chef he is today.
Favorite Katie's Dishes
Two of the most favorite dishes at Katie's Restaurant include Oyster Slessinger which are Chargrilled Oysters with a creamy provel, shrimp, spinach and bacon sauce, and the Boudreaux pizza topped with cochon de lait, red onions, roasted garlic, spinach and two cheeses. These two dishes were featured on Diners, Drive Ins and Dives – See the episode HERE.
Restaurant During the COVID Pandemic
Prior to Covid, only about 5% of the orders at Katie's Restaurant were to-go orders. Now, To Go orders are about 35% which means Scot has to focus on a different business model. The menus are scaled down at many of Scot's restaurants, but Katie's menu is quite large but his team executes it well. "I want to have something for everybody on the menu," according to Scot Craig. Scot Craig really believes in his team. They not only work well in the restaurant, but also do catering. Last year, Katie's Restaurant was the official Saint's Tailgating caterers, but he is hoping things will get back to normal.
I love this city and I love the people in this city. I love the diversity of people in this city and how we love one another. We care about one another.~ Scot Craig, Owner/Chef of Katie's Restaurant
This Week's Happy Hour Cocktail Recipes
Bailey, a cocktail aficionado at Katie's Restaurant, will teach us how to make a Western Son Blueberry Lemon Drop Martini with Western Son Blueberry Vodka and Western Son Regular Vodka.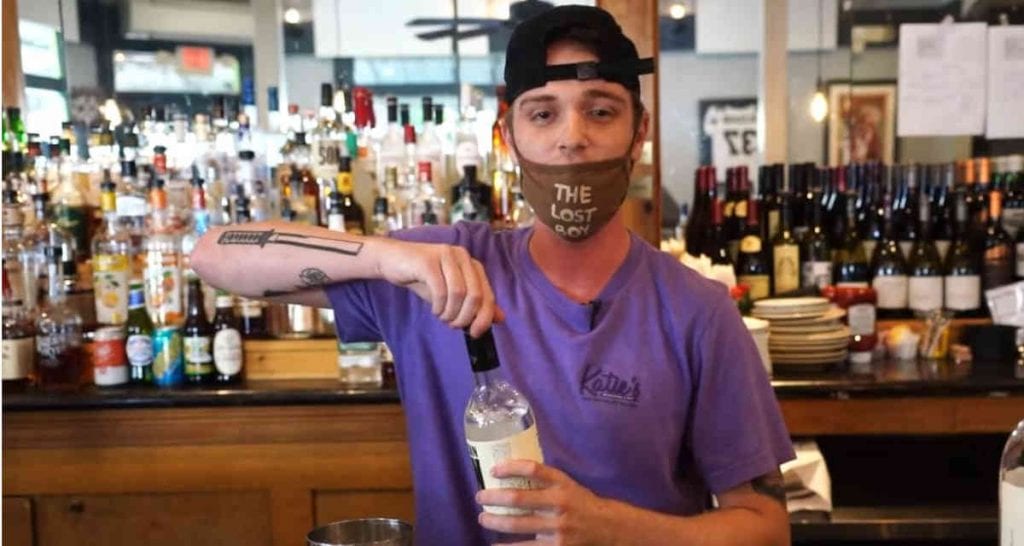 Western Son Blueberry Lemon Drop Martini Ingredient:
4 oz Western Son Blueberry Vodka, Western Son Regular Vodka, 2 lemon slices, 1 oz. Simple Syrup, 1 oz Triple Sec.
Get a nice sized glass and add two lemon slices and 1 oz simple syrup. Muddle the lemons and simple syrup together. Add 6 seconds (4 oz) of Western Son Blueberry Vodka to a cocktail shaker. Add a 4 count (2 oz) of Regular Western Son Vodka to the Shaker. Add 1 oz of Triple Sec to the shaker. Add the glass of muddled lemons and simple syrup to the shaker with ice. Shake the contents. Add a sugar rim around a Martini Glass and Strain the shaker into the Martini Glass.
Old Fashioned Ingredient:
4 oz. Hudson Whiskey Baby Bourbon, Orange Slice, Cherry, Peychaud's Bitters, Angostura Bitters, and sugar.
Get a small glass and add a slice of orange, cherry, 1 dash of Peychaud's bitters, 3 dashes of Angustura bitters, and a dash of sugar. Mull all the ingredients. Add Ice to the glass. Add Hudson Whiskey Bourbon to fill to the top of the glass. Stir all ingredients.
Enjoy your cocktails with friends and family.