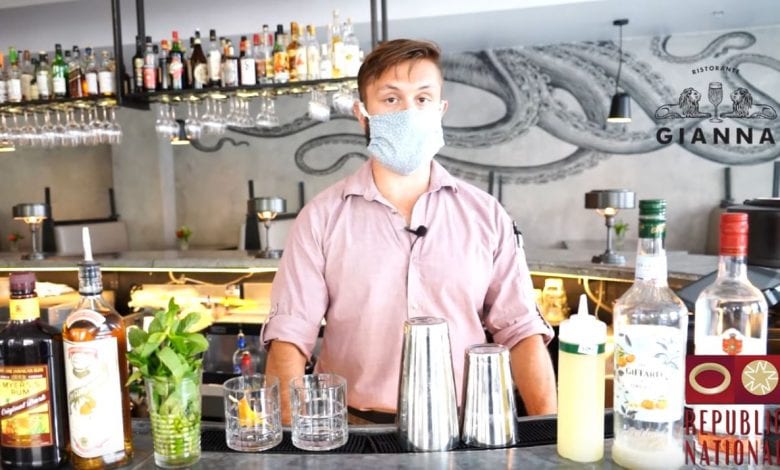 Join us this week in lifting community spirits with a toast to the New Orleans community at Gianna Restaurant with Al Groos, General Manager of the Royal Sonesta and David Piscola, General Manager of the New Orleans Hilton Riverside.
This week we are at Chef Donald Link's newest restaurant – Gianna Restaurant. Gianna is located at the corner of Magazine and Girod Streets in the New Orleans Warehouse District. The restaurant offers rustic Italian cuisine rooted in Louisiana tradition and technique. Fred Holley, the Event Coordinator for Republic National Distributing Company, is meeting with Al Groos, General Manager of the Royal Sonesta and David Piscola, General Manager of the Hilton New Orleans Riverside for Lifting Community Spirits.
Lifting Community Spirits features spirited conversations with a variety of local business owners, managers, and movers and shakers discussing cocktails, food and so much more. Fred Holley discusses the latest in the food and beverage industry and the future of the New Orleans culinary industry and how it changes every single day.
New Orleans feels like home, because everyone treats us like family. ~ David Piscola, General Manager of Hilton New Orleans Riverside
David Piscola – General Manager of Hilton New Orleans Riverside
David Piscola is the General Manager of Hilton New Orleans Riverside. The Hilton New Orleans Riverside is located on Poydras Street in New Orleans.  He grew up in the South Bronx and has been working in restaurants as young as 12 years old. "If you marry a girl from Louisiana, you move to Louisiana," Piscola said. When I married my wife from Baton Rouge, we moved back to Louisiana.
David Piscola and the New Orleans Hilton Riverside team worked with the Mayo Clinic and Lysol, they developed a whole new process of cleaning from the moment you walk through the door until checkout. When the guest rooms are cleaned, the Hilton Team has identified 10 places in each room that are regularly touched. So, after the room is cleaned, each one of these 10 places will be re-touched again with Lysol disinfecting. Then, the roomed is sealed until the guests breaks the seal and enters the room. There are also a lot of new training programs for the back of the house as well. Piscola  has had many plans for reopening and maintaining the hotel, but in the end all of the plans need to be flexible.
According to Piscola, Drago's Seafood Restaurant is going to open and Tommy Cvitanovich is ready and raring to open. Guests can be seen peering through the windows just hoping that it will open soon. "We are all such a social group, it is part of the culture, it is part of the DNA, I can feel the pent up demand to get out, and as soon as it is safe to open, people will come back," says Piscola.
Al Groos – General Manager of the Royal Sonesta New Orleans

Al Groos, was born in Brooklyn, New York, and went to Cornell University of Hotel Administration. Groos started at the Royal Sonesta New Orleans peeling and chopping onions. He worked his way up through the hotel business from the bottom up and became the General Manager in 2006. In 2003, Groos served as the President of the New Orleans Hotel & Lodging Association, and he has also served on the New Orleans Convention and Visitors Bureau.
Royal Sonesta is a smaller company compared to the Hilton, but the safety of the employees and guests is extremely important and they too have taken steps for disinfecting and sanitizing. The Royal Sonesta Team also has a very elaborate and detailed cleaning processes. After the guest rooms are cleaned and sealed, the room is not entered for 24 hours. They are also doing temperature testing and making sure that all employees and their families have not been infected by COVID-19. In the event that an employee must stay at home due to COVID-19, the Royal Sonesta has ensured that they will be paid even if they cannot be at work.
One of the big things that I have to look forward to is the the reopening of Restaurant Revolution. ~ Al Groos, General Manager of the Royal Sonesta New Orleans
Groos hopes that Restaurant Revolution will be open in September 2020. He most important goal is to secure as many jobs from the people he had to lay off. "We want to bring everyone back," says Groos. New Orleans hotels and restaurants are a resilient bunch, and he believes that we can come back. "Being safe is how we will get through this and get New Orleans back to how we remember it, " says Groos.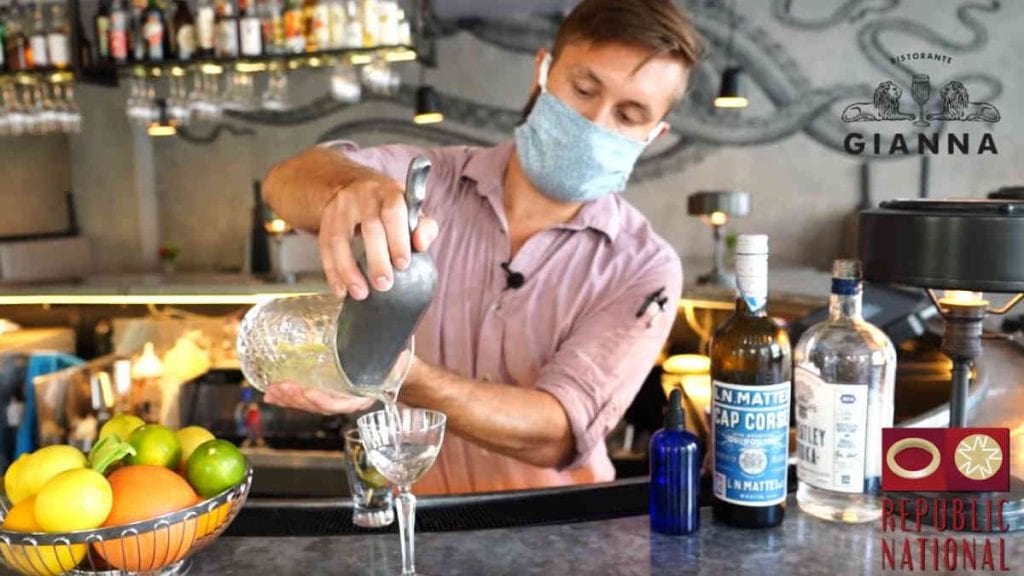 This Week's Spirits:
This week's spirits include the Mai Tai and the Vodka Martini. Brendan, the Bar Tender, will show us all the secrets to making the perfect Myers Mai Tai, and Wheatley Vodka Martini.
Mai Tai
A Mai Tai is a rum based cocktail. Start with a cocktail a cocktail shaker with ice, add 1.5 oz of light rum, 1/2 orsha almond liqueur, 1/2 lime juice, 1/2 oz orange liqueur or dry curacao, and shake it. Fill your glass up with ice, strain shaker contents into glass and top with 3/4 oz of dark rum (lay it on top). Garnish with a an orange slice, cherry and mint.
Vodka Martini
Add two lemon peels to a glass, add 2.5 oz of Buffalo Trace Wheatley Vodka, Add 1/4 oz Cap Corse, and add 3 drops of Saline. Add Ice and let sit. After it sits, stir and strain into a Martini Glass. Garnish with olives.
Please raise your glass and uplift your spirits!