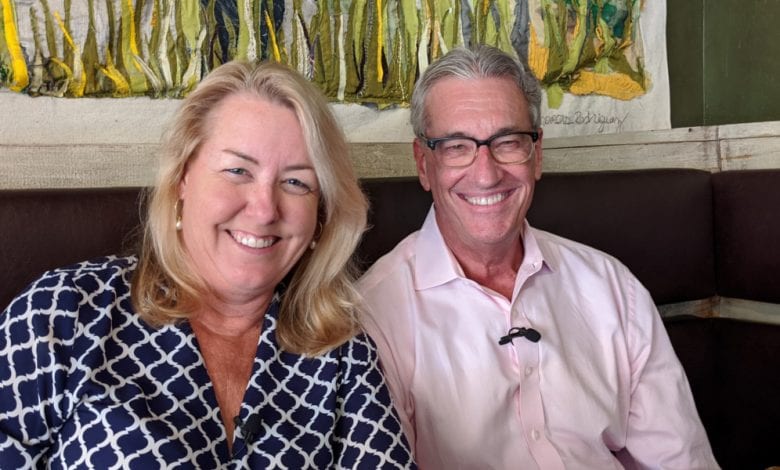 Join us this week for Lifting Community Spirits with a toast to great food and good times in the New Orleans community at Peche Seafood Grill located in the CBD in New Orleans, Louisiana. We will discuss the changes in the New Orleans culinary industry with Lisa (Gleason) Blount, the Project Manager of Antoine's Restaurant. During this week's happy hour, Matthew Hunt will teach us how to create a Coco Breeze and a Gentilly Shakedown at the Peche Bar.
Peche Seafood Grill
The Peche Seafood Grill concept and cuisine was inspired by the cooking in South Africa, Spain and the Gulf Coast. Chefs Donald Link, Stephen Stryjewski and Ryan Prewitt designed Peche with these places in mind and focused on working with local fishermen and farmers who harvest sustainably.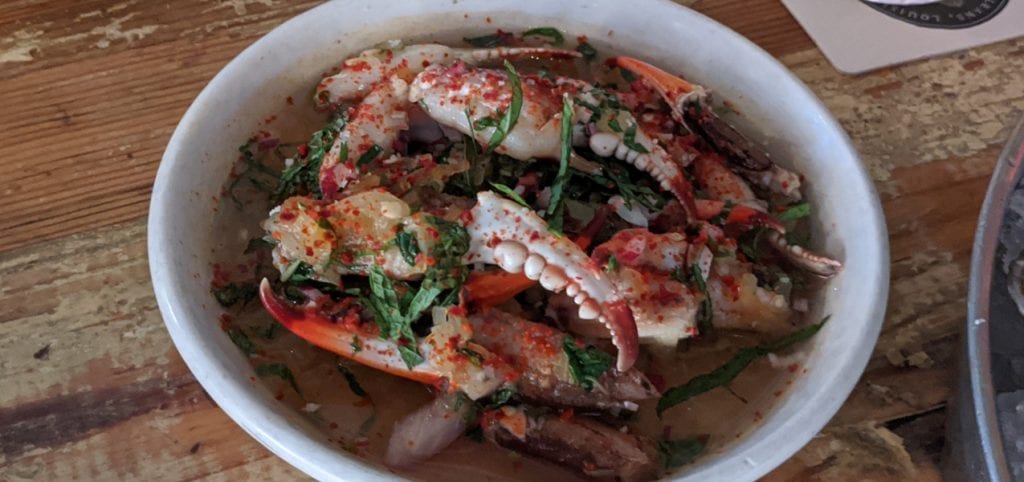 Pêche serves simply prepared contemporary dishes, rustic creations cooked on an open hearth, as well as fresh oysters and Gulf fish. "In 2014, Chef Ryan Prewitt was honored with a James Beard Foundation Award for Best Chef: South. That same year Pêche won a James Beard award for Best New Restaurant in America." This week, Nicole, the Chef du Cuisine at Peche Seafood Grill, has created some wonderful dishes that include Crispy Fried Okra, Tuna Crudo, Shishito Peppers, Marinated Crab Claws, and Grand Isle Queen Bess Oysters.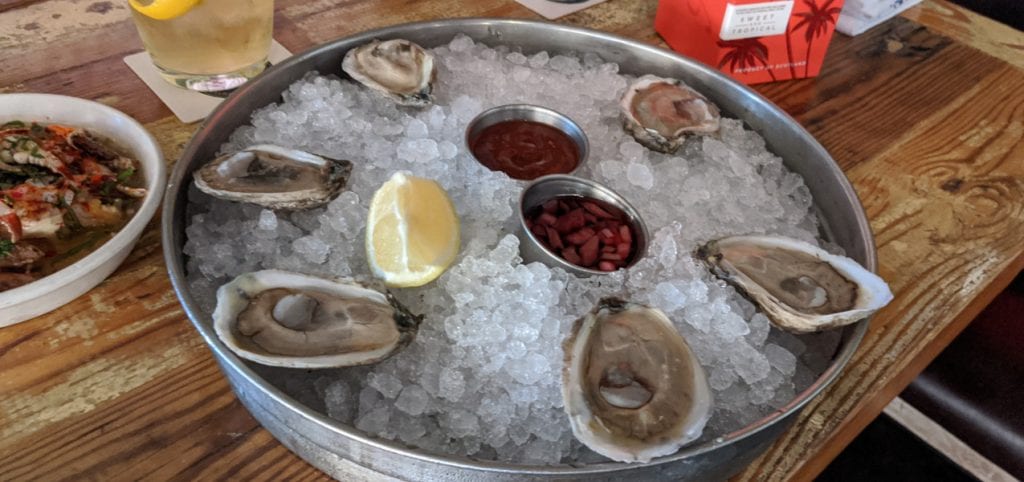 Antoine's Restaurant
Antoine's Restaurant has been around since 1840 which means it is a 180 year old restaurant. It is the oldest continuous family restaurant in the entire United States with famous dishes like Oysters Rochefellar and Eggs Sardou.
In the spring of 1840, young Antoine Alciatore, at age 18, fell in love with New Orleans and established his restaurant and it continues to this day. Antoine felt at home in the French-speaking city filled with aristocrats and extravagance which made it the perfect place for his culinary artistry. His fiancee joined him from New York and married in New Orleans and built the restaurant together.
After Antoine's death, his son, Jules, served as an apprentice under his mother. After studying in the great kitchens in Paris, Strassburg and Marseilles, he returned to New Orleans and later became the head of the house of Antoine. Jules invented the famous Oysters Rockefeller. To this day, they remain a culinary delight, but the recipe is a closely-guarded family secret. The restaurant continued to be passed down along with the culinary secrets and expertise for generations and through the Civil War, two World Wars, The Great Depression and even Hurricane Katrina. It will also survive the COVID-19 Pandemic.
I've been in food and wine for over 30 years. I guess once I got over 30 years, I just stop counting…. My real heart and passion is selling wine. ~Lisa (Gleason) Bount, Project Manager at Antoine's Restaurant
Lisa (Gleason) Bount is the Project Manager at Antoine's Restaurant. Lisa is the wife of the 5th generation of Antoine's family legacy. Lisa plays a lot of different roles from PR and Marketing to menu development and even wine. "It has been really neat to work with such a historical restaurant, but also to see it evolve," according Lisa (Gleason) Blount. COVID happened so quickly, and Antoine's made the decision to close. Antione's has one of the biggest wine cellars in the entire city with over 17,000 bottles. The wine is in the cellar waiting to be opened when the restaurant opens again. "We think people will still be interested in wine, but we really look at what the consumer wants," according to Lisa (Gleason) Blount. When Antoine's opens later in September, they plan on having some great "hot pricing" wine specials. "You can have wonderful wines from around the world." European wine is having trouble because of tariffs and in retail, people are buying their tried and true and they are buying a lot. People are choosing a lot of different lifestyle wines like wine in a box or a can which travels well and is durable.
I think wine is sometimes taken too seriously, and people just need to explore it and we will be offering it at an affordable price. ~Lisa (Gleason) Bount, Project Manager at Antoine's Restaurant
The French Quarter will come back in stages according to Lisa (Gleason) Bount. Tourists will come to town and everyone is eager to get back to normal. The demand is there, but everyone needs to be smart about opening safely . "I think that we are one of the greatest cities in the United States to go to, not just our food, but our ambiance," says Lisa (Gleason) Blount. The French Quarter is like a "Real Disney Land." People will come out, but they will come out slowly. "It is devastating that many restaurants are in trouble along with the hospitality workers. But those people and businesses who can survive, they will be in demand," says Lisa (Gleason) Blount.
Antoine's is very big with private rooms which helps in the future with social distancing and dining. With seating up to 1100 people available at Antoine's with separate rooms, the restaurant will be lucky moving forward to be able to accommodate the future rules and mandates. Antoine's will go full speed ahead for Mardi Gras and have staggered dining for Christmas. "We want everyone to have a wonderful event and be safe dining," according to Lisa (Gleason) Blount. Lisa (Gleason) Blount believes that there will be restrictions for the rest of this year and even for Mardi Gras, what those rules are, we will have to wait and find out.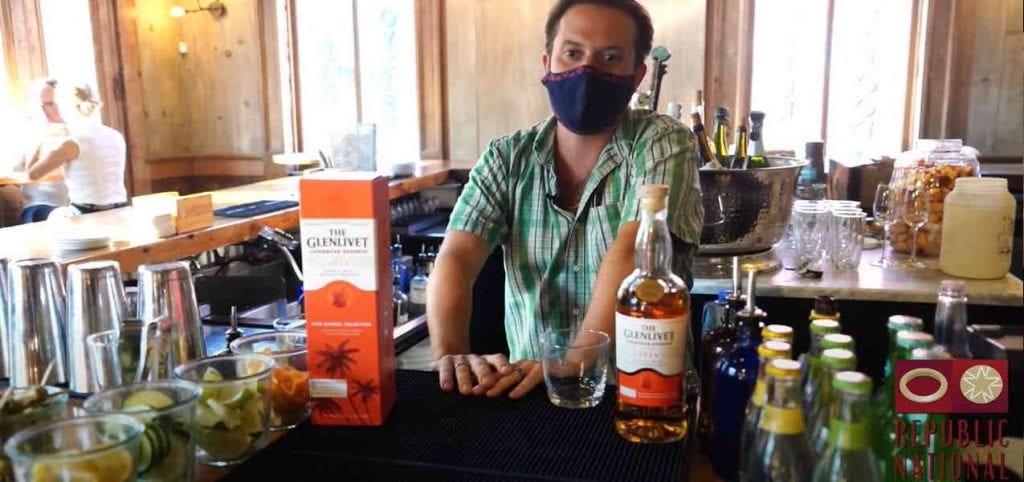 This Week's Happy Hour Cocktail Recipes
Matthew Hunt, the Head Bartender from Peche Seafood Grill in New Orleans, Louisiana, will teach us how to make a Coco Breeze cocktail and a Gentilly Shakedown Cocktail.
Coco Breeze Ingredients:
1oz Glenliver Carribean Reserve, 4oz Coconut Water, Lemon and Lime
Directions: Start with 1 oz Glenliver Carribean Rerve and add to your glass. Add 4 oz Coconut Water, Add to a shaker with ice and stir. Add ice to your glass and strain shaker contents into the glass. Add one lemon twist and one orange twist.
Gentilly Shakedown Ingredients:
3/4 oz Hendricks Gin, 1/4 oz Lemon Juice, 1/4 Cucumber Juice, 3/4 Ginger Rosemary Syrup, and Cristolino Cava
Directions: Start with the 3/4 oz Hendricks Gin and add to glass. Add 1/4 oz Lemon Juice, 1/4 Cucumber Juice, 3/4 Ginger Rosemary Syrup and add all contents to a shaker with ice. Stir contents. Add ice to your glass and pour the shaker over ice. Top with Cristolino Cava and add a cucumber slice for garnish.
Cheers!