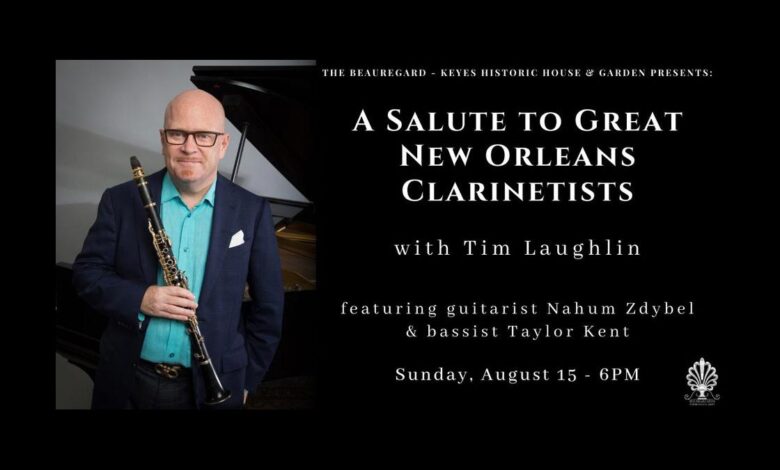 On Sunday, August 15, 2021, starting at 6pm, the Beauregard-Keyes House will host a A Salute to Great New Orleans Clarinetists. The event will feature Clarinetist Tim Laughlin! Laughlin was born and raised in New Orleans. He began playing clarinet at age nine. Shortly after, discovered jazz on the radio, thus starting his early record collections. His influences are many: Irving Fazola, Benny Goodman, Pete Fountain, Kenny Davern, Bob Wilber, Connie Jones, Jack Maheu.  Joining Tim are Nahum Zdybel and Taylor Kent. Nahum is a talented improvisor and composer based in New Orleans. He leads and tours with his own talented group and is a first- call guitarist on many jobs in New Orleans. Taylor is an established bass player with several bands and performs at times with the LPO.

Doors open at 6pm for the Salute to Great New Orleans Clarinetists, with the concert beginning at 6:30pm. Seating is open on a first come, first serve basis in the air conditioned Salle À Manger, or dining room, of the BK House. This is a Bring Your Own Beverage event! We suggest bringing extra cups and bottle openers with you.
*Covid-19 Update: BK House will require that everyone wear a face mask inside the house whether or not they are vaccinated. Please maintain social distancing as we continue to operate at a reduced capacity.
Learn more about the Salute to Great New Orleans Clarinetists event – HERE.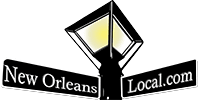 New Orleans Local is your best resource for the latest events happening around the city. If you like the theater, we've got you covered with all sorts of great safe events and lots of virtual events. Whether you are looking for festivals, parties, theater, charity events or events for kids, we have everything you need to be in the "know."  Our Calendar of Events welcomes any organization or business to submit events and happenings – HERE – to help let our community know what is happening around town. Everybody knows about Mardi Gras, but do they know about the latest charitable event, local marathons, holiday events, or reveillon dinners? Submit your event with a great photo, so we can let people know what events you want to help to promote in the New Orleans area.  Laissez Les Bons Temps Rouler