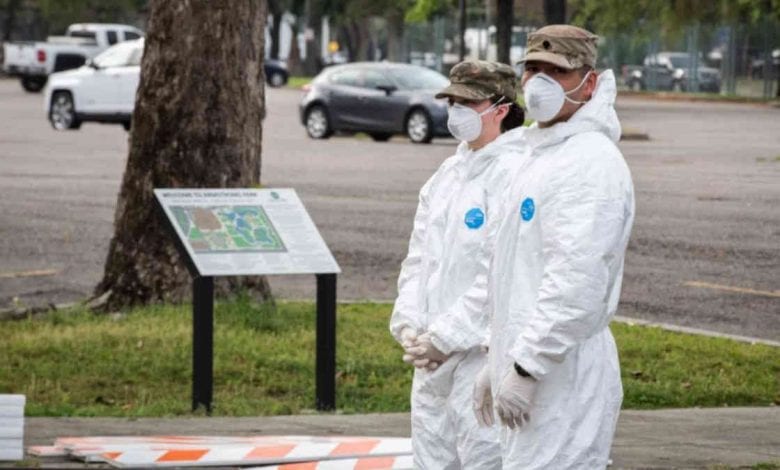 Hospitals, nursing homes, funeral homes and first responders across Louisiana are in desperate need of personal protective gear, like gloves and masks, for workers on the front lines of the coronavirus crisis. In particular, they're seeking N95 or KN95 respirator masks, which are vital to prevent infection for medical workers treating coronavirus patients.
The state of Louisiana has stepped in to make hundreds of millions of dollars in purchases on behalf of all of those facilities, in part to keep hospitals from wasting resources competing with each other. They're also acting as a centralized buyer because the state expects that 75 percent of those purchases will be covered by the federal government due to a major disaster declaration for Louisiana.
"Every single hospital across the New Orleans area is in desperate need of all categories of PPE — gowns, gloves and most importantly the N95s," said Kelly Rovetto, one of the founders of Supplies for Saints, a nonprofit with a mission of getting personal protective equipment, or PPE, to medical workers during the coronavirus crisis. "They're currently accepting cloth masks because we're about to run out."
The state has placed orders for 17.5 million of these masks so far as of Tuesday, according to data provided by the Governor's Office of Homeland Security and Emergency Preparedness, or GOHSEP. But the masks aren't coming cheap, forcing the state to place orders at prices as much as 14 times the normal cost.
The high prices are being driven in part by urgent demand from state governments across the country, forcing officials to seek out smaller vendors that do not usually deal in statewide bulk orders, GOHSEP Deputy Director Casey Tingle told The Lens in an interview.
"In a typical event, we're going after resources in a hurricane-type scenario, where maybe only three or four other states are making the same kind of demands," Tingle said. "In this scenario, everyone's making the same demands. Even internationally, the US was not the first to put demands on the system."
For full article visit: https://thelensnola.org/2020/04/15/louisiana-facing-highly-inflated-prices-for-medical-masks/