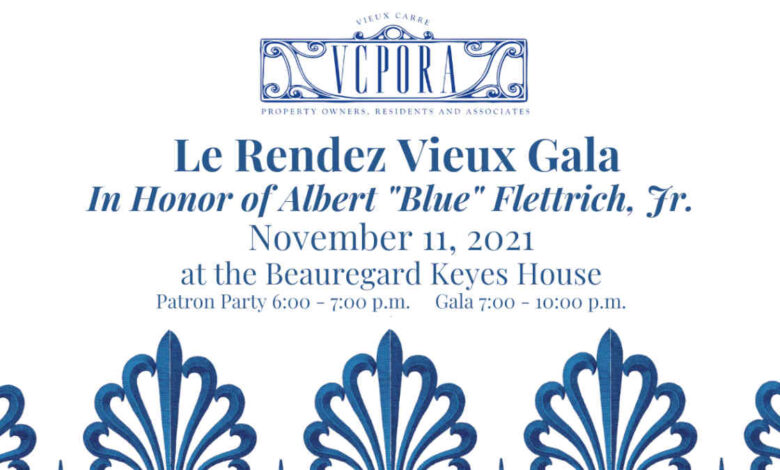 The VCPORA Gala – Le Rendez Vieux is our most important annual event and one that offers our community the chance to support and celebrate the Vieux Carré and its oldest guardian, VCPORA. We remain firmly committed to defending this remarkable neighborhood and, with your help, will continue advocating to increase residential opportunities and quality of life in the French Quarter. The success of these efforts is a direct result of your support!

Le Rendez Vieux Details
This year's gala, Le Rendez Vieux, will be held in honor of the generosity and legacy of Albert "Blue" Flettrich, Jr. The gala will take place on Thursday, November 11, 2021 at the beloved historic Beauregard-Keyes House, which will graciously set the stage for an evening of culinary delights and lively entertainment!
The Le Rendez Vieux Patron Party will begin at 6 p.m. and will lead us into the Gala which will be held from 7 p.m. – 10 p.m.
In addition to a few surprises, guests will be dancing our hearts out to Meschiya Lake & her Little Big Quartet while enjoying food and drinks from local vendors like Jacques-Imos, Bayou Beer & Wine Garden, Bar Tonique, and Piece of Meat!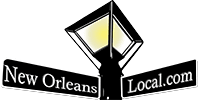 New Orleans Local is your best resource for the latest events happening around the city. If you like the theater, we've got you covered with all sorts of great safe events and lots of virtual events. Whether you are looking for festivals, parties, theater, charity events or events for kids, we have everything you need to be in the "know." Our Calendar of Events welcomes any organization or business to submit events and happenings – HERE – to help let our community know what is happening around town. Everybody knows about Mardi Gras, but do they know about the latest charitable event, local marathons, holiday events, or reveillon dinners? Submit your event with a great photo, so we can let people know what events you want to help to promote in the New Orleans area. Laissez Les Bons Temps Rouler!