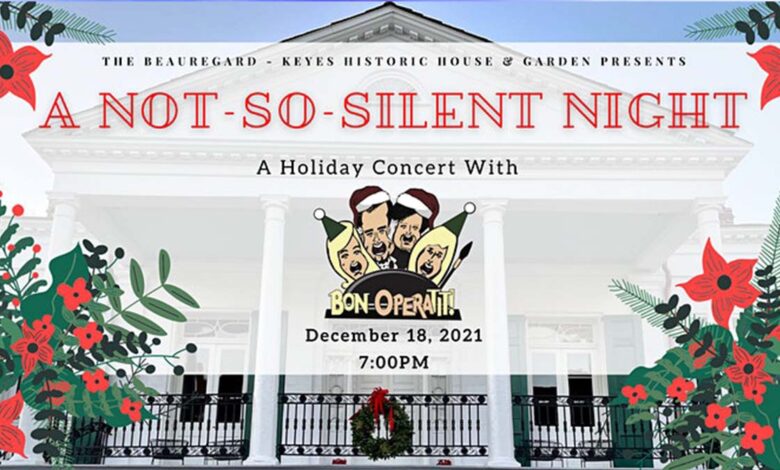 Celebrate the holiday season at BK House on Saturday, December 18 with Bon Operatit in concert! This is a Not-So-Silent Night Holiday Concert at the Beauregard-Keyes House in New Orleans. Come enjoy classic holiday favorites and join in on a Christmas carol sing-a-long! Bon Operatit! are New Orleans opera singers Lauren Mouney Gisclair, Mary Penick Akin, Joseph Akin, and Jacob Penick. They serve up a perfect pairing of opera and musical theatre hits that are sure to invigorate the senses.

A Not-So-Silent Night Holiday Concert Details
The Not-So-Silent Night Holiday Concert will take place on December 18 at the Beauregard Keyes House. Bon Operatit! have become a staple of this city's extensive operatic tradition. Doors open at 6:30pm with the performance starting at 7:00pm. This is a Bring Your Own Beverage event! 
Refreshments and holiday treats will also be available! Tickets are $40 per person. Learn more – HERE. 
About Beauregard- Keyes House
Opposite the old Ursuline Convent on Chartres Street stands the Beauregard-Keyes House. The House is now owned by the Keyes Foundation, which was established by late resident Frances Parkinson Keyes, to ensure the preservation of the house and garden which she restored. Since the construction of the House in 1826, many different residents have contributed to the stories that make up the fabric of this unique historical site. Learn more – HERE.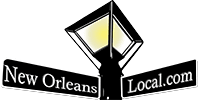 New Orleans Local is your best resource for the latest events happening around the city. If you like the theater, we've got you covered with all sorts of great safe events and lots of virtual events. Whether you are looking for festivals, parties, theater, charity events or events for kids, we have everything you need to be in the "know."  Our Calendar of Events welcomes any organization or business to submit events and happenings – HERE – to help let our community know what is happening around town. Everybody knows about Mardi Gras, but do they know about the latest charitable event, local marathons, holiday events, or reveillon dinners? Submit your event with a great photo, so we can let people know what events you want to help to promote in the New Orleans area.  Laissez Les Bons Temps Rouler!