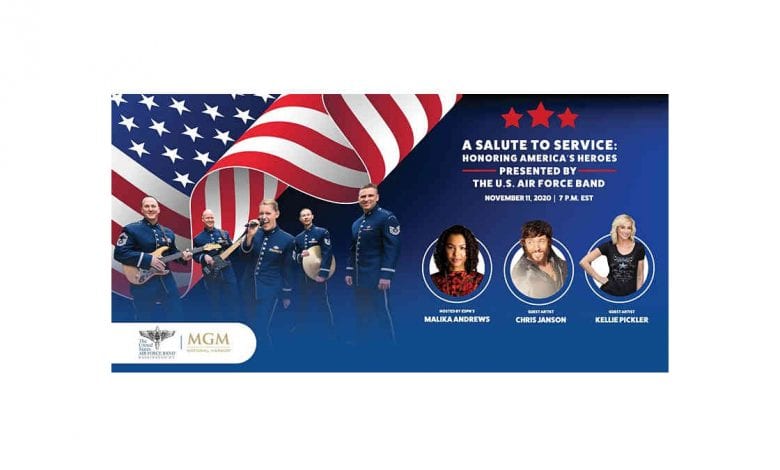 Happy Veterans Day to America's Heroes! 
On this day, we invite you to the join the United States Air Force Band for a Salute to Service: Honoring America's Heroes. At 6PM on Veterans Day, join the US Air Force Band on their Facebook Page or Youtube Page to honor our service members who protected our freedoms throughout history. The MGM National Harbor produced the evenings' events and will include uplifting stories from Veterans whose legacies serve as inspiration for those currently serving. 
Entertainment
The event will feature Chris Janson, country star writer and performer of the hit single "Buy Me A Boat." Max Impact, the official rock band of the United States Air Force, will join Mr. Janson for this star-studded evening. Kellie Pickler, members of the Singing Sergeants, Air Force Strings, and the Ceremonial Brass are also featured throughout the evening hosted by Malika Andrews. Everyone looks forward to honoring America's Heroes during this event.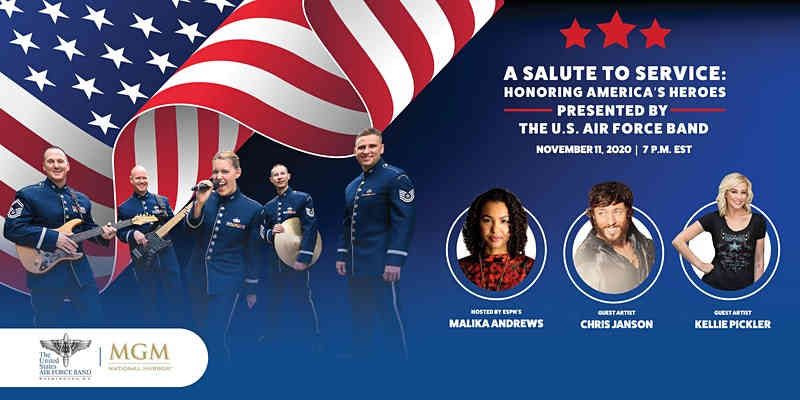 CREDITS:
Colonel Don Schofield – Executive Producer
Chief Master Sgt. Dennis Hoffmann – Chief of Production/Video Producer
Senior Master Sgt. Chad Randolph – Head Audio Engineer/Production Manager
Master Sgt. Brooke Emery – Producer
Master Sgt. Jim DeVaughn – Broadcast Audio Supervisor
Master Sgt. Josh Voyles – Audio Engineer
Technical Sgt. Nathan Martin – Audio Engineer
Technical Sgt. Jim Woolf – Audio Engineer
Technical Sgt. Pedro Rodriguez – Audio Engineer
Technical Sgt. Tim Hilgert – Video Editor
There are so many wonderful things happening all over New Orleans for Veterans Day. Learn more about the Veterans Day Celebrations at the World War II Museum – HERE. The World War II Museum is offering free admission to all veterans of conflicts. There will be activities from 9AM until 5PM. Don't miss out on anything happening in New Orleans. Check out our website – HERE.