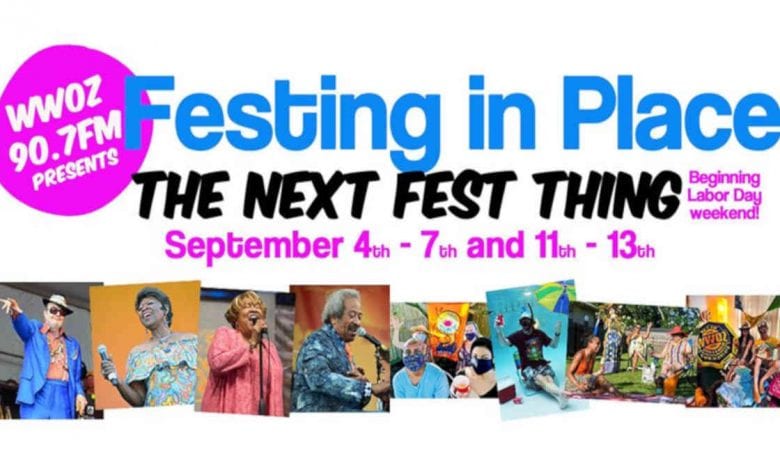 Right now there is really not much to look forward to. Concerts are being cancelled and bar seating is prohibited. That's why WWOZ decided to lift your spirits with Festing In Place – The Next Fest Thing.
Festing In Place – The Next Fest Thing – will take place 7 full days from 11AM -7PM. Friday, September 4th-Monday September 7th and Friday, September 11th-Sunday, September 13th. This means you can enjoy your Labor Day weekend while Festing in Place. Get your festival flags, shirts and hats and enjoy some iconic performances from the safety of your home.
We will create our own special cubes highlighting the schedule which will feature some of the great performances in the history of New Orleans music.

WWOZ
During the broadcast you will be able to listen to performances from popular New Orleans festivals such as Jazz Fest, French Quarter Fest, Satchmo SummerFest and the Crescent City Blues and BBQ Fest.
Festing in Place- The Fest Best Thing will include performances by New Orleans legends including Dr. John, Fats Domino, The Neville Brothers, Pete Fountain, Irma Thomas, Allen Toussaint, Louis Prima, James Booker, Aaron Neville, Trombone Shorty, Kermit Ruffins, John Boutte, Professor Longhair…..and many, many more. There will also be interview segments focusing on the music, food, and heritage of New Orleans and Louisiana to give the feeling of a wide-reaching cultural festival.
For more information visit: https://www.wwoz.org/festing-place-next-fest-thing
Organizers came up with the idea of Festing in Place – The Next Fest Thing after millions of people worldwide "Fested in Place" with WWOZ in April and May, after Jazz Fest had been cancelled.