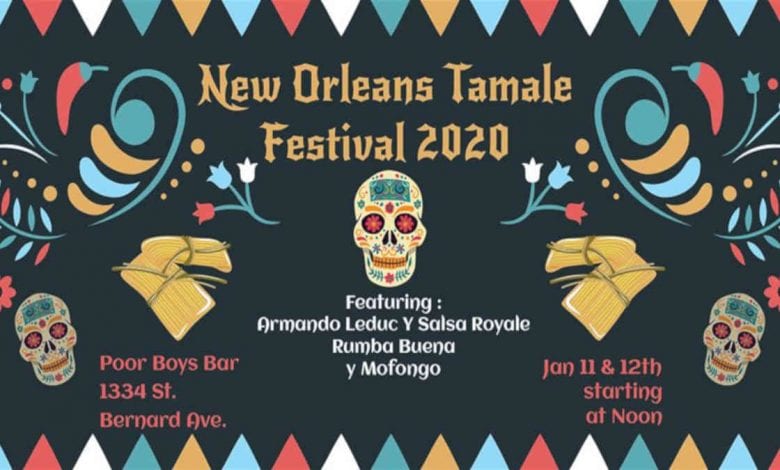 New Orleans Tamale Festival 2020
Do you like Tamales? Then we have an event that is just perfect for you: the New Orleans Tamale Festival 2020 presented by Medina's Good Tamales, Holly Tamale, & Armando Leduc. The 3rd Annual New Orleans Tamale Festival 2020 will take place on January 11 from noon to 6 pm and on January 12 from 1 pm to 5 pm.
For more information visit: https://www.facebook.com/events/2679212858828655/
What To Expect
The festival celebrates New Orleans diverse culture. Here are the smells, tastes, sights and sounds of the big easy's vibrant culture will come alive. We welcome local Tamaleros and Tamaleras to showcase their delicious recipes for you all to enjoy.
Cover charge is only $5 ($8 at the door) Children 10 years and younger will get in for free. There will not only be Tamales but also musical performances by Mofongo, Rumba Buena, & Armando Leduc Y Salsa Royale. And that is not all! You don't want to miss the Tamale King and Queen competition and the Tamale eating contest. How many do you think you can eat? There will also be face painters on site.
About Tamales
Usually tamales are made from a mixture of corn dough (masa) and a filling wrapped in a banana leaf or corn husk and then steamed. The dough becomes firmer when it is steamed. Make sure to unwrap your tamale entirely before enjoying and eating it on the go. Tamale fillings include chicken or pork. Tamales can also be filled with vegetables including potatoes, corn, peppers or carrot. Some are filled with cheeses, dried fruits and olives. If you want to taste some amazing Tamales head over to the 3rd Annual New Orleans Tamale Festival.