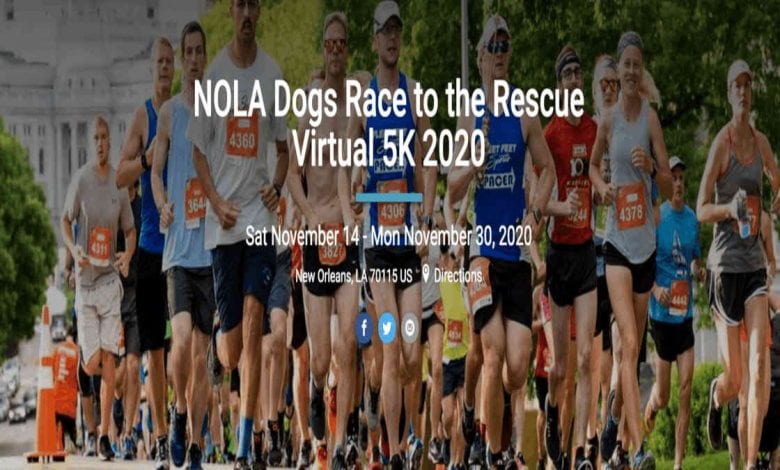 NOLA has definitely gone to the Dogs…Rescue that is – for the NOLA Dogs Race to the Rescue 5K!
This year is a NOLA Dogs Race unlike any other. We invite you to race wherever you are. Take your four legged friend with you and run the NOLA Dogs Race to the Rescue 5k at your convenience between the dates of November 14 until November 30, 2020. Participants will receive a medal and a NOLA Dogs Mug. All proceeds go to animal rescue in the New Orleans area. The beneficiaries for the 2020 race will be announced on September 30, 2020.

The NOLA Dogs Race Rescue 5K Information
All race participants can sign up for the race on the following website – Click HERE. The Registration fee is $30 per registrant plus a $2.74 Sign-up Fee. The Price will increase to $35.00 after November 25, 2020. All runners will receive a bib, medal, and a giveaway. The goal of the race is to reach $30,000. If you are looking for participants to support, don't worry, we have a list of all of the participants. Click HERE for more information. 
There are many wonderful sponsors for this event. The sponsors include: Canine Connection, NOLA HOME Realty Group, Southshore Animal Hospital, State Farm (Leigh Ann Arcuri), Crescent City Vet, Heaven's Pets, Elmer's Chee Wees and Metairie Small Anima Hospital. There is still time if you want to become a sponsor of this wonderful pet friendly event. 
Always be in the know about the latest events taking place throughout New Orleans. The New Orleans Local website keeps you in the know with the latest events taking place, great tips for kids, trends in the restaurant industry, and even some fun local traditions. Check out the New Orleans Local events calendar with great events happening every day – HERE.