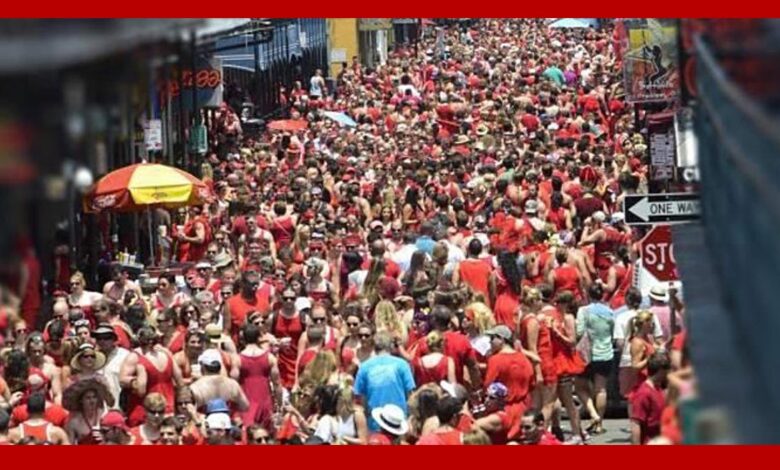 As of 8/9/2021, the 2021 Red Dress Run is cancelled due to COVID. We hope that in 2022 the run will be able to take place. Stay Safe!
It's August….which means it is time for the New Orleans Hash House Harriers to host the Red Dress Run 2021. Red Dress Run 2021 is a charity "run" through the Crescent City. This year the run will talk place on August 14, 2021. The run begins in the morning and ends much later. All participants will run through the city dressed to the nines in RED…Red Tutus, Red Heels, Red Stockings, Red Hair, any Red is fully appreciated and supported at this event. Whether you are running or not, all  participants will have a great time. 

Red Dress Run 2021 Details
Registration: Participants are encouraged to sign up at the official website of Hash House Harriers. The early birds can sign up in advance and benefit from a lower cost. It's a charity run, so the registration includes donations to local charities, along with special live music and beers for the run. Register Here
Red Dress Run Rules
The major rule is that you must be 21 to participate, meaning that this party is for adults only. Everyone, both men and women have to dress up in their favorite red dress. Moreover, wearing the same attire two years in a row is considered bad manners. For repeat participants, there is a red dress swap to get a fresh look. The colorful attire the runners put on, lots of alcohol, and fun will ensure you have the party of a lifetime! However, it means so much more than just a red dress, so look through the webpage before you decide to participate.
Run Tips
Consider bringing your fanny pack not to be dragged down with your handbag. Make sure to put on a comfy and breathable pair of underwear is running about 5k on a hot day might be rough. Also, headbands and sweatbands are a brilliant idea to wipe off your moisture and from other tipsy runners bumping into you. On the run, check your laces to make sure none, including you, trips over. If you are a true runner, please, hold your horses as it takes time to drink a beer or two at each corner and to interact with cheerful folks along the route.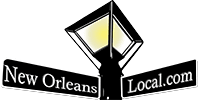 New Orleans Local is your best resource for the latest events happening around the city. If you like the theater, we've got you covered with all sorts of great safe events and lots of virtual events. Whether you are looking for festivals, parties, theater, charity events or events for kids, we have everything you need to be in the "know." Our Calendar of Events welcomes any organization or business to submit events and happenings – HERE – to help let our community know what is happening around town. Everybody knows about Mardi Gras, but do they know about the latest charitable event, local marathons, holiday events, or reveillon dinners? Submit your event with a great photo, so we can let people know what events you want to help to promote in the New Orleans area. Laissez Les Bons Temps Rouler!