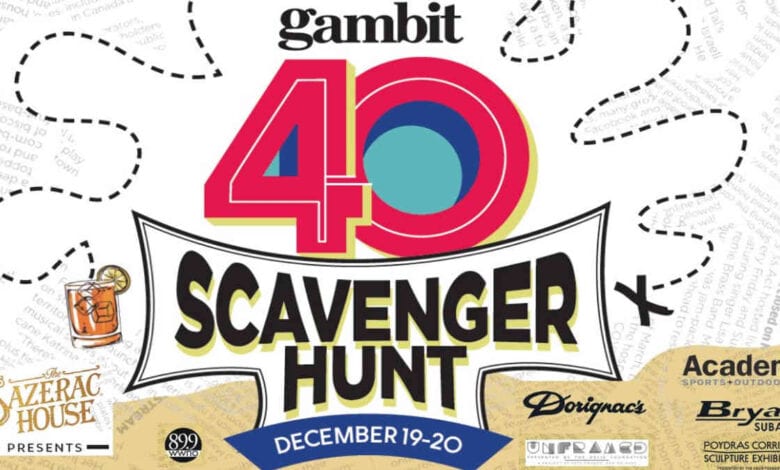 Are you up for a scavenger hunt?
In honor of the 40th anniversary of Gambit and presented by The Sazerac House, there will be a two day – do-it-at-you-own-pace "New Orleans Spirited" adventure. The Scavenger Hunt will take place on December 19 and December 20, 2020. The Deadline to sign up for the Scavenger Hunt is December 16.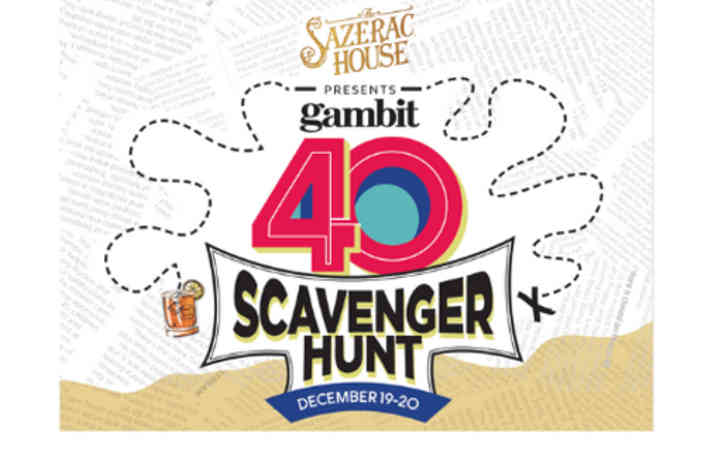 How To  Play
1.  Register and organize your team members for the Scavenger Hunt.  Each team can have 1 to 4 players (Gambit Supporting Members play for free).  Non-Gambit Member teams can register to play for $20.  All participants must be 21.  
2.  Name your team and designate an "object" that will accompany you on your hunt.
3. On the morning of Dec. 19, 2020 you will receive a clue book via email and the scavenger hunt rules.  Solve the clues and take a photo with your "object" to prove you were there.  All photos must include your "object" (example:  your favorite copy of Gambit or your lucky Drew Brees bobble head).  All but one member of your team must be in your submitted photos—no dividing and conquering.  You do not need to solve every clue or visit every location. Do as much as you can, to earn the most points.  
4.  All photos must be submitted via Dropbox (instructions to follow) by 11:59 pm on Sun., Dec. 20. 
5. Points will be tallied and winners will be announced on Mon., Dec. 21 and the team with the most points* will win $1,000 and a Sazerac House mixology bar kit (shaker, jigger, spoon and strainer).  

2nd place team Scavenger Hunt participants will each win a one year museum membership to an "Art for all institution" of the winners choice (Ogden, CAC, NOMA, Children's Museum, or Botanical Gardens) courtesy of the Helis Foundation. 

The third place team for the Scavenger Hunt will win gift card to Central City BBQ. 

Additional Scavenger Hunt prizes will be awarded to the 4th, and 5th highest scoring teams.  *In the event of a tie, a drawing for prize levels will be held. 
NO PURCHASE NECESSARY. A PURCHASE WILL NOT INCREASE YOUR CHANCES OF WINNING. VOID WHERE PROHIBITED BY LAW. 1. Open to legal residents of the Continental United States. 2. Must be 21 years or older to enter to be eligible to win listed prizes, unless otherwise stated. 3. No substitution or transfer of prize permitted. Prizes are non-redeemable for cash. 4. Administrator reserves the right to refuse any submission for any reason. 5. Odds of winning depend upon the number of eligible entries received. 6. Winners will be notified by email or telephone and will be required to execute a W-9 and Release of Liability to claim prize, and failure to do so may result in forfeiture of prize. 7. Employees of Administrator, Sponsor, and their subsidiaries, affiliates, and their families are not eligible to enter. 8. For a list of winners, please send a SASE to Gambit, 823 Camp St., New Orleans, LA 70130. 9. By entering, participants agree to release and hold harmless Administrator, Sponsor, their parents, subsidiaries and affiliated entities, and each of their respective directors, officers, employees, attorneys, agents, and representatives from any damage, injury, expense, cost, death, loss, claim, action, demand, or other liability that may arise in connection with the Contest, or resulting from their acceptance and/or use of any prize, their travel to or from any prize related activity, their participation in this promotion, or from any misuse or malfunction of any prize awarded, including, without limitation, personal injury, death, and/or property damage. 10. Employees, agents and officers of alcohol beverage retailers and distributors and their family members are not eligible to enter or win. 11. Participants hereby permit their image, photographed or filmed during participation in the contest to appear in any media whatsoever by Administrator, Sponsor for an unlimited period and the participant will not be entitled to any fee for such use. 12. All taxes and fees and any other expenses arising out of the receipt and use of the prizes, are solely the responsibility of the Winner. 13. Winner agrees to accept prize "as is." 14. This promotion is in no way sponsored, endorsed or administered by, or associated with, Instagram, Twitter or Facebook. 15. By participating, entrants agree to be bound by these Official Rules and the decisions of Administrator, which shall be final and binding with regard to all matters relating to the Contest.  16. Please drink responsibly.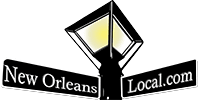 Don't miss out on anything happening in New Orleans. What are you doing during for the holidays? Find out some great options on the New Orleans Local Events Calendar – HERE.  New Orleans Local is your best resource for the latest events happening around town. Are you looking for parties, theater, festivals and anything else? We have everything you need in one location.