On Sunday, December 13, 2020, from 10AM until 3PM, you are invited to support local artists at the Artistic Porch Crawl in Algiers.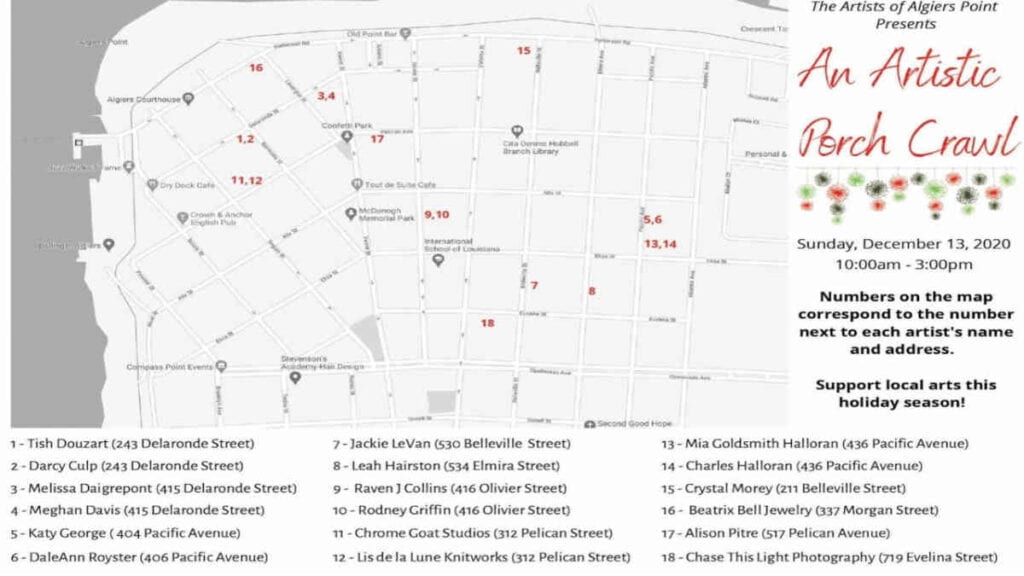 Artistic Porch Crawl
There are so many great artists that are participating in the Artistic Porch Crawl. Some of the artists include: Tish Douzart, Darcy Culp, Melissa Daigrepont, Meghan Davis, Katy George, DaleAnn Royster, Jackie LeVan, Leah Hairston, Raven J. Collins, Rodney Griffin, Chrome Goat Studios, Lis de la Lune Knitworks, Mia Goldsmith Halloran, Charles Halloran, Crystal Morey, Beatrix Bell Jewelry, Alison Pitre and Chase This Light Photography. 
History & Walking Tours
Ride the ferry to the Algiers Point Historic District and experience absolute beauty. The area was settled in 1719 and is actually listed on the National Registrar of historic Places Walking distances from the French Quarter. Plus, there is something existing about taking the Ferry across the mighty Mississippi River bridge. It certainly is New Orleans' Best Kept Secret. Learn more HERE.  Don't forget to stop in at the Artistic Porch Crawl. 
About Algiers Point Historic District
The Algiers Point Historic District is on the beautiful curve of the Mississippi River on two sides and by Atlantic and Newtons Streets on the other two. It was designated Jurisdiction in 1993 as the New Orleans Historic District Landmarks Commission. 

Algiers Point/Canal Street Ferry Information
The Ferry leaves Algiers Point on the Hour and Drops guests off at the foot of Canal Street. The cost is $2 for pedestrians, $1 for seniors 65 on up, and free for children 2 and under. Bikes and strollers are allowed on the vessel. Call 504-309-9789 or visit the NORTA website for complete information.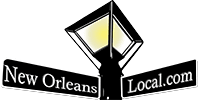 Don't miss out on anything happening in New Orleans. Don't miss out on any of the great New Orleans Artists? Find out some great options on the New Orleans Local Events Calendar – HERE.  New Orleans Local is your best resource for the latest events happening around town. Are you looking for parties, theater, festivals and anything else? We have everything you need in one location.