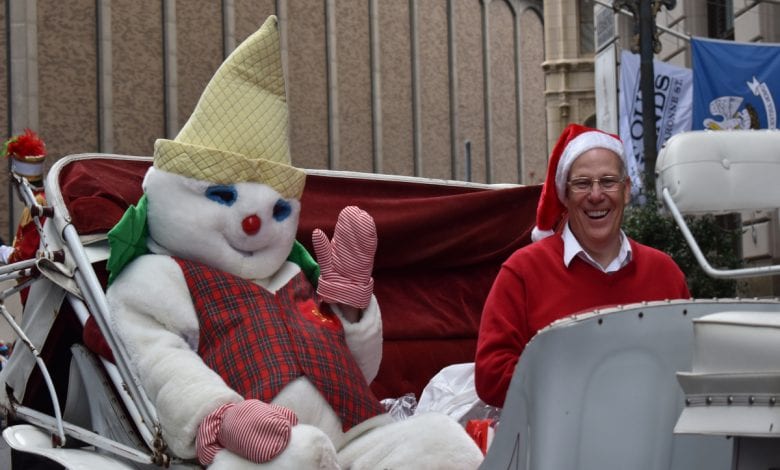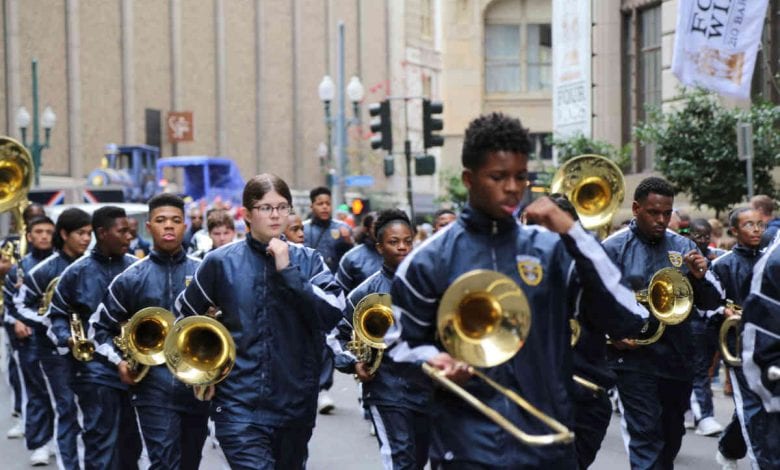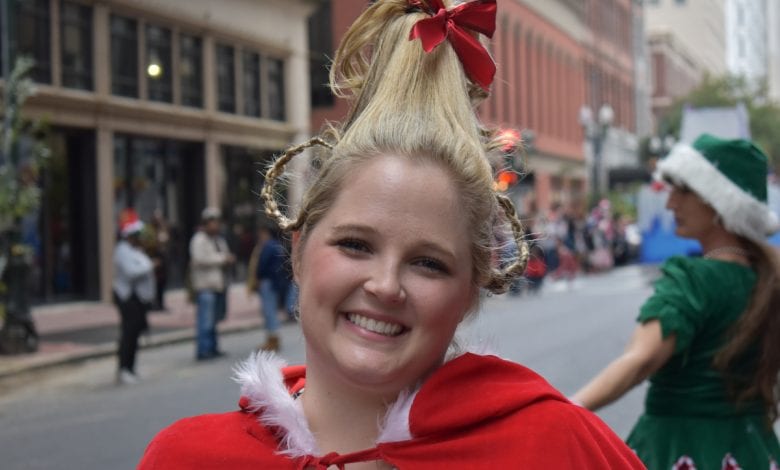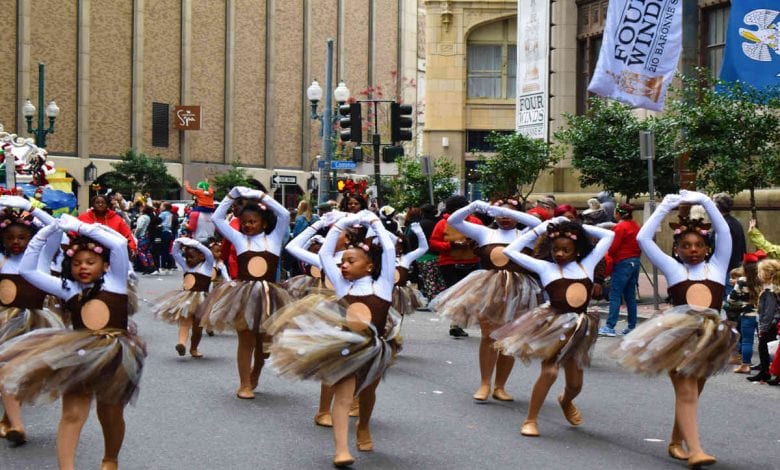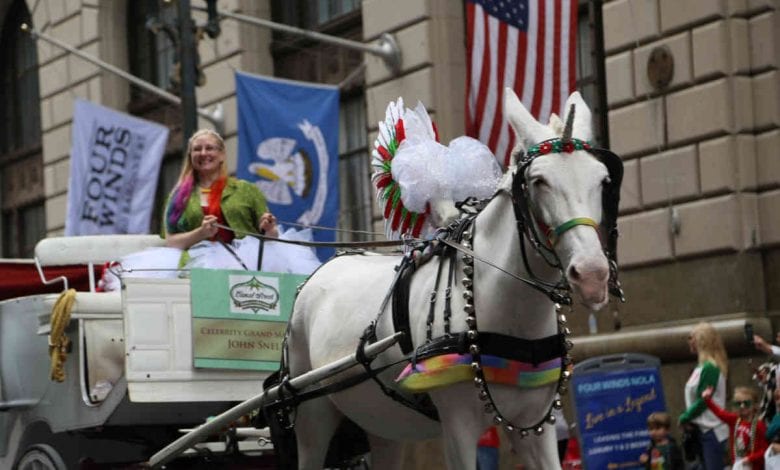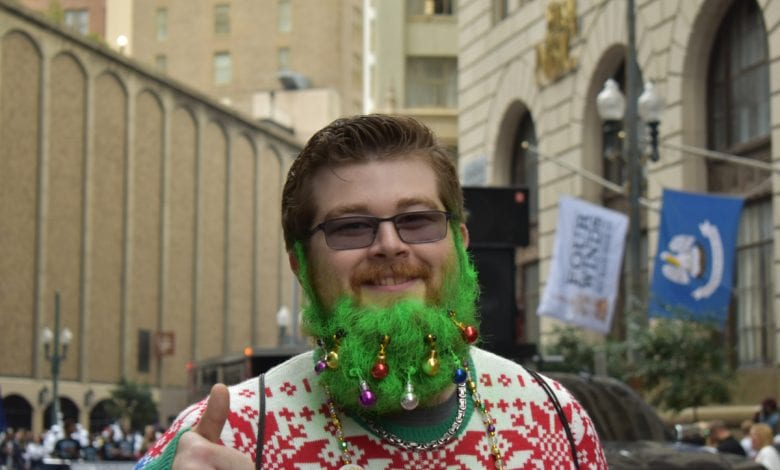 The Krewe of Jingle rolled through the Warehouse District on Saturday, December 7. The Downtown Development District and The Roosevelt New Orleans have been putting on this parade for several years and this year there were about a dozen floats and over 50 elements at the parade. Parade revelers cheered when their favorite holiday floats, marching bands, stilt walkers, and Christmas Characters came by. But the most beloved character was Mr. Bingle. Krewes included in this year's Krewe of Jingle parade were the Sirens of New Orleans, the Muff-a-Lottas, the Pussyfooters, the Amelia EarHawts and the Krewe of the Rolling Elvi. The parade was led by Celebrity Grand Marshal and WVUE-TV anchor John Snell and Mr. Bingle.
This year, the Krewe of Jingle Parade had to take a slightly different parade route due to the Hard Rock Hotel construction site collapse on Canal Street. The Parade started out at Lee Circle and then rolled down St. Charles Avenue to Canal Street. It then turned on Canal Street and then went down Baronne Street. That's where we caught up with the Krewe Of Jingle.
Mr. Bingle Jingle
Mr. Bingle was created by Emile Alline, who was a window-design manager at Maison Blanche. Mr. Bingle is the well-known snowman who wears an ice-cream cone for a hat. This toy is a New Orleans tradition which continued even after the closing of Maison Blanche in 1998.
Do you remember the Mr. Bingle Jingle?
"Jingle, jangle, jingle
Here comes Mr. Bingle
With another message from Kris Kringle
Time to launch your Christmas season
Maison Blanche makes Christmas pleasin'
Gifts galore for you to see
Each a gem from MB!"
"Jingle, jangle, jingle, Here comes Mr. Bingle." Mr. Bingle Jingle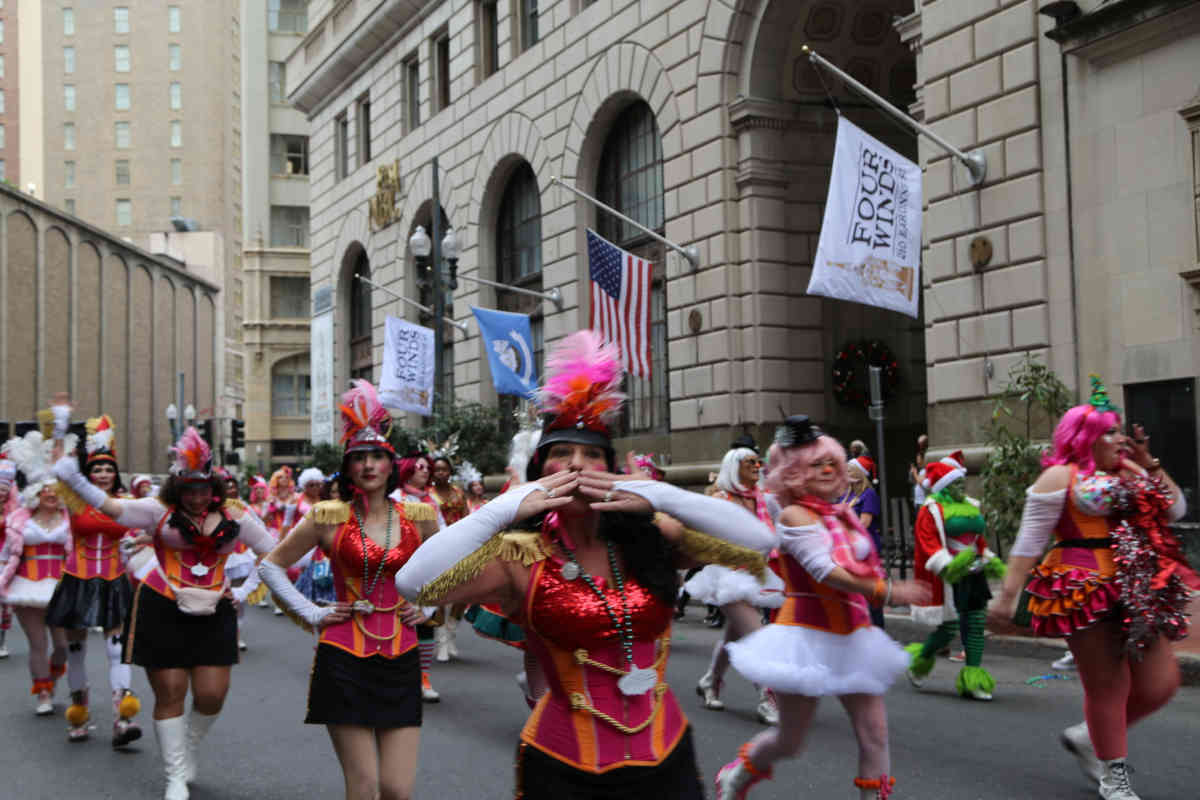 Never miss anything happening in the city! Visit our event calendar for more events: https://neworleanslocal.com/events/