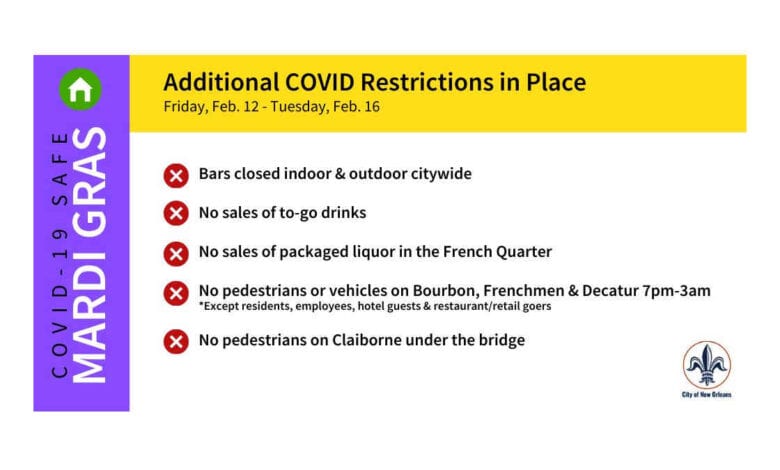 On Friday, February 12, 2021, at 6am through Wednesday, February 17, 2021 there will be additional Covid-19 Rules and Restrictions throughout New Orleans.
We are still in modified phase 2 in New Orleans. (To Learn more about this  phase and the restriction , click HERE). The new Mardi Gras Covid-19 Rules and Restrictions are due to "recent crowd events in the French Quarter that included hundreds of people more than the guidelines permit, current hotel occupancy rates predicted for Mardi Gras week (which, at the time of the issuance of these guidelines, is 25-41%), and the  history of Mardi  Gras bringing large crowds to New Orleans and being an event that typically includes large gatherings and large crowds in certain areas of the City; as well as the emergence of new, more contagious variants in the New Orleans area that have been shown to be up to 50% more contagious, and the fact that community spread of COVID-19 after last year's Mardi Gras celebrations caused the City's hospitals to reach capacity." See More – HERE. 
We're doing this in response to the health crisis that we are in. There are consequences of not taking action, the costs are simply too high.  There are three new COVID strains out there which will have an impact on our city. We have to mitigate this virus the best way we can. It requires all of us to do the right thing. ~ Mayor LaToya Cantrell

Mardi Gras Covid-19 Rules – The Details
All bars will be closed both indoor and outdoor citywide, including bars operating as restaurants with AR-Conditional permits
There will be no package liquor sales in the French Quarter
All sales of to-go drinks will be banned 
Bourbon St., Decatur St. and Frenchmen St. will be closed to pedestrians and vehicles from 7 p.m. – 3 a.m.

Restaurants and retail stores can remain open and residents and visitors will have access

There will be no loitering on Bourbon St. 
The Claiborne underpass and corridor will also be fenced off
Large gatherings are banned and will not be tolerated — including activities that encourage people to congregate, like street vending and performing
See all of the details and rules from the City of New Orleans – HERE.