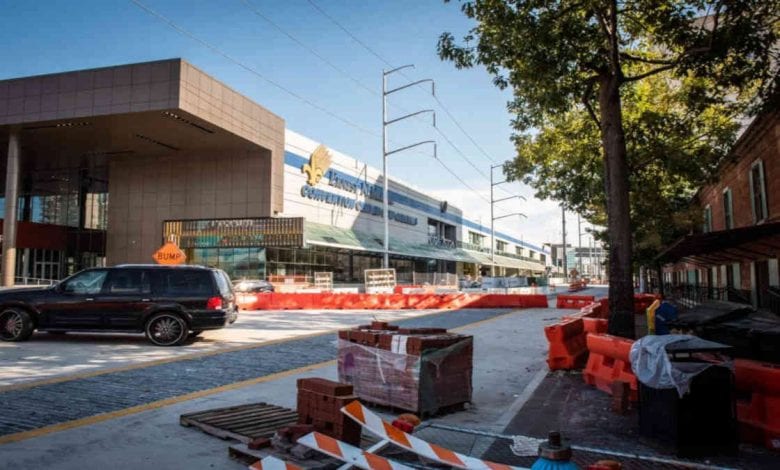 The governing board of the Ernest N. Morial New Orleans Convention Center is pressing pause on behind-the-scenes negotiations with a private development team over a publicly subsidized, $702 million hotel development.
The announcement followed weeks of criticism from public officials and local government watchdog the Bureau of Government Research, who said that the Convention Center should reconsider the wisdom of moving forward on expensive tourism projects during nationwide lockdowns and economic crises triggered by the coronavirus. 
At the last full board meeting, Convention Center President and General Manager Michael Sawaya reported that the hotel negotiations were still ongoing, despite those concerns.
The board's new chairman — State Rep. Walt Leger — had previously announced that they were pushing back key votes on a related, but separate, "entertainment district" development that would surround the new hotel with new restaurants, bars, residential housing and other attractions. But on Wednesday, Leger firmly committed to pressing pause until the board can resume normal, in-person meetings. Currently, meetings are being held virtually.
"We have decided at this time not to take any further action related to the development of that property," Leger said. "That includes all of the upriver portion, the anchor hotel as well as well as the master developer agreement until a time that is more appropriate and until a time that we can join each other once again in a more appropriate public setting so there can be more complete engagement and discussion over how to proceed."
He recommitted to taking a "fresh look" at the planned developments, and indicated that the center could be willing to consider options outside of the hotel deal and entertainment district proposals currently on the table. 
For full article visit: https://thelensnola.org/2020/04/23/convention-center-puts-hotel-development-on-hold-and-donates-1-million-for-coronavirus-relief-but-fails-to-satisfy-local-coalition-of-unions-and-advocates/