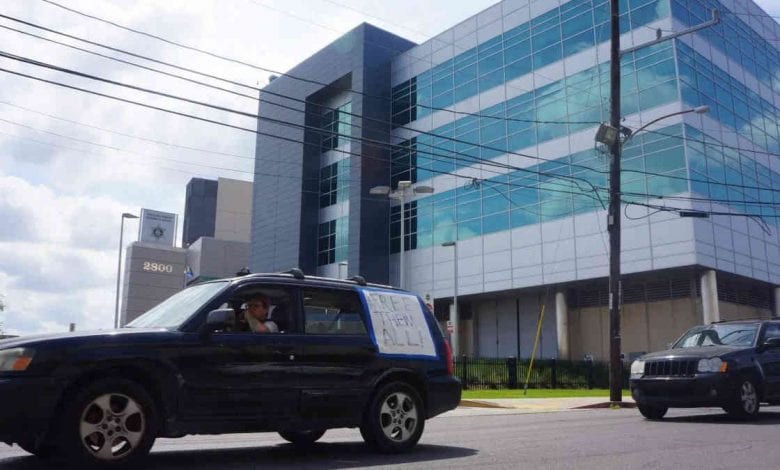 A motorcade protest consisting of dozens of cars demanding decarceration of state and local detention facilities amid the spread of coronavirus circled the Orleans Justice Center on Monday. Earlier in the day the Orleans Parish Sheriff's Office announced it was holding 14 inmates who have tested positive for the virus. Another inmate who tested positive is being treated at a local hospital.
The 15 total inmates who have tested positive as of Monday represents an increase of 13 since late last week. In addition, 29 Sheriff's Office employees and 10 employees of its contracted healthcare provider, Wellpath, have tested positive.
The motorcade, organized by the New Orleans Workers Group, also circled the Juvenile Justice Center, the Immigration and Customs Enforcement New Orleans Field Office, and City Hall.
"Without action, local, state, and immigrant prisons may become a center of death for thousands and devastate families and communities," a press release from the Workers Group announcing the protest read. "Many of those incarcerated are ill, old, or children. We cannot let this happen."
The protest came amid a several week push by a wide array of criminal justice actors — including the Orleans Public Defenders, the Orleans Parish Sheriff's Office and the Louisiana Supreme Court — to find ways to reduce the local jail population. According to the Sheriff's Office, there are 800 inmates in local custody, the lowest number in recent memory. An additional 20 Orleans Parish inmates are being held at a state facility in St. Gabriel.
For full article visit: https://thelensnola.org/2020/04/06/sheriffs-office-confirms-15-new-orleans-inmates-positive-for-coronavirus-advocates-in-motorcade-protest-for-more-releases/